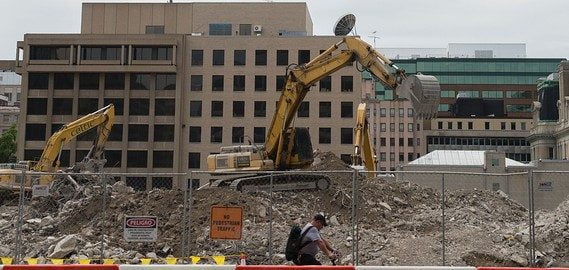 Banks continued to tighten lending standards to commercial real estate loans in the third quarter, according to a Federal Reserve survey released Monday.
The Fed survey of senior loan officers of 69 domestic banks and 21 foreign banks found standards were tightened on all types of commercial real estate loans. A large fraction of banks reported tightening standards for construction and land development and for loans secured by multifamily residential properties. A smaller fraction also tightened standards for loans secured by nonfarm nonresidential properties.
Some Fed officials, like Boston Fed President Eric Rosengren, are worried that a bubble may have formed in the sector as interest rates have stayed close to zero since late 2008.
Read: Fed may have to hike interest rates faster, Rosengren says
Banks reported stronger demand for commercial and land development loans, while demand for other types of commercial real estate loans was
On balance, banks left their other commercial and industrial loan standards basically unchanged.
The Fed survey also found that demand for home mortgages strengthened over the third quarter. Demand for auto and credit card loans also rose.
Standards for consumer loans were unchanged.
[Source:-Market Watch]