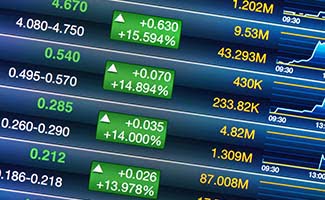 The fight to get accepted into college – particularly a top-notch college – is fierce, to say the least. In the U.S., after-school shops like Sylvan, Kaplan and The Princeton Review capitalize on families' desires for their children to succeed, offering prep programs for Advanced Placement tests, SATs and then some.
But helicopter parents around the world speak the same language. In China, the preparatory education industry is in a "golden age," according to a recent Deloitte report, with early childhood, K-12 and vocational education cumulatively highlighted as the "major growth point in the future."
And the firm's deep-dive report, issued in May, projects the sector will expand in China at a 12.7% compound annual growth rate to generate revenue of nearly $440 billion (3 trillion renmibi) in 2020.
Investors have not missed their cues. The largest among China's for-profit education league, New Oriental Education & Technology ( EDU ), has seen its American depositary receipts rise more than 60% since the start of the year. The company booked nearly $1.5 billion in revenue last year, and that's expected to grow 18% for the year ending in May.
TAL Education ( XRS ) reported $620 million in 2015 revenue, and that's projected to soar 55% this year (ends in February) and an additional 40% in fiscal 2018. TAL shares are up 68% since Dec. 31.
At $188 million in 2015 revenue, Tarena International ( TEDU ) is the smallest among China's big-league school stocks traded in the U.S. Consensus views place revenue growth at 26% this year, and the ADRs have climbed 57% year to date.
In a Nov. 9 research note following the U.S. presidential election, JPMorgan analyst Leon Chik said that "we also believe that the education sector is the most insulated from U.S. election-related risks. Education is a defensive sector and is purely domestic (so no impact from any changes in U.S. trade policies)."
That action and sudden, recent gains from U.S. school plays including Capella Education ( CPLA ) and Grand Canyon Education ( LOPE ) combined to drive IBD's 25-stock Consumer Services-Education group 30% higher since the start of October. The advance sent the group to a powerful No. 3 ranking this week among the 197 industry groups tracked by IBD , up from a No. 56 rank three weeks ago.
IBD'S TAKE: Research shows as much as 50% of the strength of a leading stock's run derives from the position of its industry group and sector at the time of the breakout. IBD's industry group rankings and SMART NYSE & Nasdaq Tables are an easy way to monitor group and sector strength.
China's K-12 Market Getting "Bigger and Better"
Deloitte's study points to four major factors that have spurred China's educational golden age. Those include favorable governmental policies, technological innovation, a "rapid increase of social capital flowing into the education industry" and noneducation industries investing in the sector.
A good portion of those education benefits go to Chinese students heading for overseas schools. Deloitte said in a separate report that the number of outbound international students from China rose to 520,000 in 2015, up from 280,000 just five years earlier.
Of the publicly traded names, New Oriental, TAL Education and China Distance Education Holdings Limited (CDEL) are generally regarded as key players in China's after-school tutoring market, along with privately held Xueda Education. (Xueda was  taken private earlier this year.)
Most of these private education institutions – over four in 10 – are focused in larger cities in the eastern part of the country, but working to extend their reach.
New Oriental, which calls itself the biggest private-education provider in China, offers classes for little ones as young as three years old, including language, math, music and art. Enrollment in its Pop Kids program alone shot up 49% in its most recently reported quarter, with revenue rising 39% in U.S. dollars during the August-ended period.
Total enrollment grew 31% to over 1.3 million students, though earnings growth slowed sharply to 7% — just meeting analyst expectations. The network operates 771 learning centers, up from 609 centers in 2011. It employs 19,700 teachers across 56 cities, according to the company.
JP Morgan's Chik noted on Oct. 26 that summer promotions did not weigh on New Oriental's results too heavily, but he prefers TAL Education "for its higher focus on K-12 operations and faster sales and earnings growth."
JPMorgan rates New Oriental a neutral and TAL Education overweight.
TAL's enrollment figures are also climbing. Management said in its Q2 conference call with analysts on Oct. 27 that enrollment growth of 77% enabled a 56% rise in revenue during the period.  As of the August-ended quarter, it tended to over 1.1 million students.
Unlike New Oriental, TAL – an acronym for "Tomorrow Advancing Life" – concentrates exclusively on K-12 after-school tutoring. Its network spans 25 Chinese cities.
The K-12 market is "getting better and better," said TAL Financial Officer Rong Luo during the call with analysts, adding that the company is increasing capacity, hiring more teachers and adding more cities to its roster. (As an aside, TAL Education said its NYSE ticker symbol will shift to TAL from XRS as of the start of December.)
Just as U.S. institutions Kaplan (owned by Graham Holdings (GHC)) and Princeton Review (a subsidiary of IAC/Interactive (IAC)) offer adult education classes in areas such as computer programming and finance, their China-based counterparts offer courses for working adults, particularly online.
New Oriental has a segment catering to young professionals. Tarena International focuses primarily on professional education services, with a specialty in information technology. Tarena's model weaves together in-person and remote online teaching.
Positive School Rule Changes
One regulatory change in China that is seen as benefiting after-school tutoring providers: A revised law preventing for-profit private schools from participating in the compulsory, nine-year early education system – essentially, kindergarten through ninth grade. The policy goes into effect on Sept. 1, 2017, according to Chinese news agency Xinhua .
The change sent a shudder through China's swelling network of private schools. But Credit Suisse analysts called TAL and New Oriental "almost immune to the revision," since their offerings are after-school, extracurricular and outside compulsory system.
In addition, students attending private schools receive higher-quality educations. That means that private school students do not usually need after-school tutoring, said JPMorgan's Chik, and are not a significant portion of New Oriental and TAL's student market.
"With less competition from private schools (and more students in regular public school), the potential marketplace for tutorial operators should be larger," he wrote on Nov. 9.
And as the industry consolidates, some experts point to TAL and New Oriental as having good growth prospects.
"Big institutions like TAL and EDU will enjoy strong growth in the next three to five years," Qingteng Education founders Cui Kai and Wang Chen told Credit Suisse analysts Zoe Zhao and Evan Zhou, according to a Nov. 14 note from the bank. "They will be even more powerful if their system can own students' data throughout their learning curve, and customize their study plan accordingly."
As they expect big establishments to at some point collectively occupy 50% of the market, Kai and Chen added that midsize institutions in smaller cities face the most pressure, though small vendors with differentiating qualities "could still survive."
U.S. Education Peers Spiking
Shares of New Oriental topped a 48.51 flat-base buy point on Oct. 24. They were just above buy range this week, but have had trouble gaining altitude, although the action fits largely in the stair-step style of the 13-month advance.
TAL put together a six-day advance through Wednesday, receiving some nice volume support as it rebounds from support at its 50-day moving average. The stock is just out of buy range on the rebound.
Tarena snapped out of a short consolidation to new highs on Tuesday. The pattern was too short to be a base pattern, and the pullback was too deep to qualify as a rebound from support, so the move did not provide a technical buying opportunity.
Other players in IBD's Consumer Services-Education industry group include Nord Anglia Educatio n (NORD), an operator of international schools with 43 schools around the world – including China, Europe and North America – with almost 37,000 full-time students.
The thinly traded stock was up 17% this year in the past week, and is taking 52-week highs as it climbs up from an 18-month correction.
In the U.S., Grand Canyon and thinly traded Capella Education have posted the largest recent gains and are up 42% and 85%, respectively, so far this year. Most of those gains occurred over the past two months.
Bright Horizons (BFAM) is also a major player, with 940 company-operated child care centers that have a capacity of 108,000 children and families, said the company.
William Blair downgraded the stock to market perform from outperform at the start of November, "based on our view that expectations for earnings growth and upside are full at the current price." The company missed Street estimates on both the top and bottom lines.
[Source:-NASADAQ]