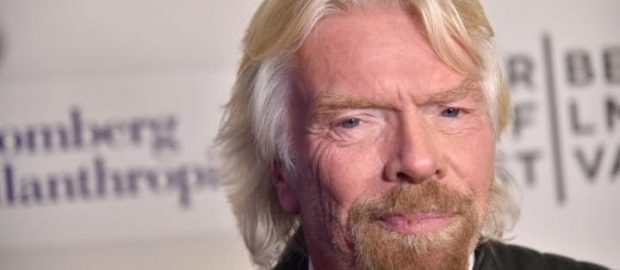 An in-depth look at the most influential people in…
Sir David Barclay and Sir Frederick Barclay, Businessmen and Owners, Telegraph Media Group, 82
The Barclay twins' commercial interests span media, retail and property: their businesses include the Ritz, Littlewoods online department store, delivery service Yodel and Telegraph Media Group. They purchased TMG, which comprises the Daily Telegraph, Sunday Telegraph and the Spectator, in 2004. The brothers' father died when they were 12 and they set up a painting and decorating business, later moving into property. They were declared bankrupt in their 20s, but now sit in 12th place on the Rich List with an estimated fortune of £7 billion.
Dominic Barton, Global Managing Partner, McKinsey & Company, 54
Dominic Barton is the global managing partner of McKinsey, one of the largest and most influential management consulting firms in the world. Based in London, Barton is responsible for the overall running of the 90-year-old firm, which has clients in 62 countries around the world, and whose alumni include the CEOs of Google and Morgan Stanley. Barton has worked for McKinsey for 30 years and was Chair in Asia for five years prior to becoming managing partner in 2009. He can spend up to 300 days a year travelling and has authored more than 80 articles and co-authored two books.
Sir Richard Branson, Businessman and Philanthropist, 66
The UK's most famous entrepreneur Richard Branson left school aged 16 and set up a mail-order record company. He opened his first store on Oxford Street in the '70s before establishing Virgin Records, whose early artists included Mike Oldfield and the Sex Pistols. That was just the beginning: Branson moved on to found Virgin Atlantic Airways in the '80s, Virgin Trains in the '90s, and Virgin Mobile in 1999. Today Virgin Group comprises over 400 companies with a net worth estimated at $5 billion. Ardently anti-Brexit, Branson is a signatory of the Giving Pledge, whereby wealthy individuals commit at least half their wealth to philanthropy.
Alison Brittain, CEO, Whitbread, 51
Alison Brittain took over as CEO at FTSE 100 leisure and hospitality business Whitbread at the beginning of 2016, the same year the company celebrated its 275th anniversary. Whitbread's divisions include Premier Inn, the largest hotel brand in the UK, and Costa Coffee, the world's second-largest coffee shop chain. A newcomer to the hospitality industry, Brittain was one of the most powerful women in the city prior to joining Whitbread, as head of retail banking at Lloyds Banking Group. Having already overseen a 4% increase in revenue since she joined, Brittain next plans to open 300 new Costas in China.
Nicholas Coleridge, CBE, President, Condé Nast International, 59
As president of Condé Nast International and managing director of its UK operations, Nicholas Coleridge is responsible for fashion and lifestyle magazines including Vogue, Glamour, Tatler, Brides and Vanity Fair. His passion for magazines developed from reading Harpers & Queen when convalescing from an illness as a 15-year-old, and he became a regular contributor to it – and eventually editor. Coleridge has overseen healthy profits at Condé Nast  in the UK and its offerings now include a fashion college in London and e-commerce site style.com, though Coleridge believes that the traditional 'glossy' still holds an allure as yet unmatched by digital innovation.
Bruce Daisley, Vice-President, EMEA, Twitter
In 2015 Bruce Daisley became vice-president of Twitter in Europe, the Middle East and Asia, having run its UK operations since 2013. Daisley has played an important role in increasing Twitter's advertising revenue through promoted tweets, trends and accounts, and previously worked at Google as director of YouTube and display, and at Emap prior to that. At the end of 2016 Twitter announced a new 360-degree live video streaming service via its subsidiary Periscope, and with more than 310 million users worldwide, it remains a highly influential source of news, views and entertainment.
Warren East, CBE, Chief Executive, Rolls-Royce, 55
Warren East became CEO of Rolls-Royce in 2015, taking the reins at a challenging time for the company after it had been forced to issue several profit warnings and seen its share price halved. East's experience should bolster confidence in the engineering company, however: he was CEO at ARM Holdings for 12 years, overseeing a period of enormous growth as the demand for its microprocessors increased by a multiple of 20. In 2016, East donated half of his £1.7 million ARM share windfall to the trust he set up with his wife, supporting education and medical charities.
Carolyn Fairbairn, Director General, Confederation of British Industry, 56
In 2015 Carolyn Fairbairn became the first woman to lead the CBI, the organisation that works to promote the interests of around 190,000 businesses in the UK. Having begun her career at World Bank, Fairbairn went on to work at the Economist and McKinsey, under John Major at Downing Street, and at the BBC and ITV. She was responsible, in 2002, for creating and launching new television service Freeview. She has recently warned Theresa May about the impact on British business of a hard Brexit and a bureaucratic new immigration system.
Moya Greene, CEO, Royal Mail Group, 62
As CEO of Royal Mail for the past six years, Moya Greene has overseen its total privatisation and is credited with overhauling its performance. Born in Newfoundland, Greene was previously president and CEO of Canada Post, where she oversaw a trebling of profits. She is the first female CEO of Royal Mail, which celebrated its 500th anniversary in 2016. Greene recently blamed Brexit for a fall in junk mail, which impacted profits in 2016, though the group remains resilient thanks to its parcels divisions and an increasing enthusiasm for online shopping.
Baroness Harding of Winscombe, Chief Executive, Talk Talk, 49
2015 was a challenging year for Talk Talk when a cyber attack affected over 150,000 customers. CEO Dido Harding weathered the media storm, however, and within six months Talk Talk had managed to regain almost as many mobile subscribers as it had originally lost, going on to report a jump in profits in 2016. Raised in Dorset, Harding studied PPE at Oxford and then for an MBA at Harvard before joining McKinsey Consulting. She worked for Thomas Cook, Woolworths and Tesco and Sainsbury's before joining Talk Talk as CEO in 2010.
Sir David Higgins, Chair, HS2 and Gatwick Airport, 62
In late 2016 it was announced that Sir David Higgins, chair of the £55 billion high-speed government rail project HS2, would also become chair of Gatwick Airport. A highly respected figurehead in transport and logistics, Higgins was born in Australia and studied civil engineering at the University of Sydney, and was previously chief executive of both Network Rail and the Olympic Delivery Authority. As it looks increasingly unlikely that Gatwick will gain a second runway, Higgins has said that the airport's priority will be to maximise its existing facilities.
John Holland-Kaye, Chief Executive, Heathrow Airport, 51
Appointed CEO in 2014, John Holland-Kaye is now leading plans for a third runway at the UK's busiest airport Heathrow. Born in the Lake District, Holland-Kaye began his career at LEK Consulting, where he worked around the world of senior strategy, sales and operations roles, before joining Heathrow in 2009 as commercial director. He late became development director, responsible for delivering the investment necessary to open its new Terminal 2: The Queen's Terminal. He was divisional CEO at Taylor Wimpey plc prior to joining Heathrow.
Nick Jeffery, CEO, Vodafone UK
Nick Jeffery has worked at Vodafone since 2004 and became its CEO in September last year. He previously worked for Cable & Wireless, which was acquired by Vodafone in 2012, and has international experience as Vodafone's group enterprise director, when he was responsible for corporate clients. He takes up the top job at a challenging time for the world's second-largest mobile operator, which has lost a million UK customers in the last three years in the face of competition from BT, Sky and Virgin.
Nick Jones, Founder, Soho House Group, 53
The Soho House Group comprises 18 clubs, and its latest opening, Soho Farmhouse in rural Oxfordshire, has been used as a bucolic retreat by many a high-profile guest including Alexa Chung and David Cameron. Nick Jones is the man responsible for breathing new life into the private members' club having opened his first Soho House in 1995. Shortly afterwards he unveiled a countryside equivalent, Babington House, and he also owns two Electric Cinemas, 16 restaurants and a number of beauty and grooming brands, including Cowshed. Jones is married to broadcaster Kirsty Young and says that his biggest achievement is his family.
Paul Polman, CEO, Unilever, 60
As head of consumer goods giant Unilever since 2009, Paul Polman oversees a number of the UK's best-loved brands including Hellmann's, Dove and Marmite. Born in the Netherlands, Polman previously worked for Procter & Gamble and Nestle, and his commitment to the environment was inspired by these companies' centuries-long histories. Polman plans to double Unilever's size while reducing its impact on the environment by cutting carbon emissions and sourcing materials responsibly. It was placed top in Oxfam's Behind the Brands ranking of the ten big food companies based on their social and environmental policies.
Simon Segars, CEO, ARM Holdings, 49
ARM, or Advanced RISC Machines, was sold to Japan's Softbank for £24 billion in 2016. A market-dominant designer and licensor of microprocessors, software tools and technologies billed as 'the architecture of the digital world', ARM's semiconductor technology is used in most mobile phones, as well as games, satnavs, digital cameras and storage devices. The company has seen staggering growth over the past three decades and now has offices and design centres around the world. Electronic engineer Simon Segars joined ARM as its 16th employee in 1991, when it was still housed in a barn in Cambridgeshire, and became CEO in 2013.
Kate Swann, Chief Executive, SSP Group, 52
Travel catering and retail group SSP operates restaurants and shops in airports and train stations on behalf of brands including Starbucks, Burger King and Yo! Sushi. Chief executive Kate Swann joined the group from WH Smith, where she worked for a decade and oversaw a dramatic turnaround that saw her named Business Leader of the Decade at the National Business Awards in 2012. She was born in Hertfordshire and graduated from the University of Bradford, where she is now chancellor. Under her leadership, profits at SSP have grownsteadily year-on-year and it now has over 2,000 sites in 30 countries around the world.
Emma Walmsley, Incoming Chief Executive, GlaxoSmithKline, 47
In April Emma Walmsley will succeed Sir Andrew Witty as chief executive of Britain's biggest drugs company, GlaxoSmithKline, a role which will make her one of only seven female chief executives in the FTSE 100. Walmsley joined GSK in 2010 as the chief executive of its Consumer Healthcare division, overseeing brands including Horlicks and Sensodyne and an annual turnover of £6 billion. Walmsley studied modern languages and classics at Oxford and worked for L'Oréal for 17 years before joining GSK.
[Source:-Telegraph]