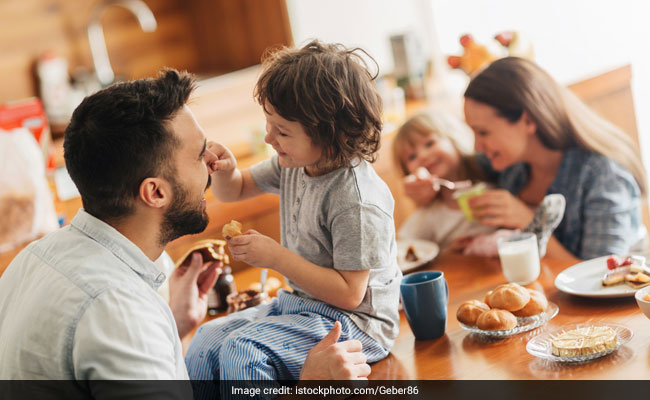 It is daddy's day today. You wake up early, get your children some breakfast, prepare their lunchbox and pack them off to school. Why? Because it's always great to share the load fairly and have an equal ownership of chores especially when it comes to raising your kids.  So, if you haven't made breakfast for your kids before or served them lunch while mommy was out, now is a good time to start lending a helping hand. We surely understand that if it is your first time you are bound to be confused and which is why we'd like to help. Consider this as a father's guide to help his kid eat well and eat healthy. No, it is no rocket science but you'll need to keep these tips handy to make sure you don't end up upsetting their routine by turning it into cheat day!
1. Breakfast is the most important meal of the day. Yes, we know that but it is much more important for your tiny tots as they need a constant rush of energy to glide through the day. The thumb rule for a breakfast meal is that it should be a perfect balance of perfect balance of proteins, carbohydrates, fiber and fats. Make sure you pick healthy foods that fall under each of these categories. For instance, eggs and peanut butter for protein, whole grain bread for carbohydrates and oats with fresh fruitsfor fiber.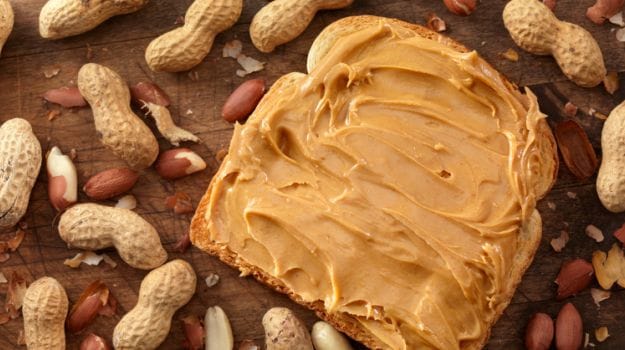 Peanut butter is a healthier option than regular butter. Photo Credit: Istock
2. Experiment with grains, nut butter and hung curd instead of mayonnaise. If your child does not get adequate carbohydrates through the day he will feel lethargic and irritable. Pick from a variety of whole grains that are full of good carbohydrates and rich in fiber. Fiber helps to keep them full for longer and so they won't feel the need to turn to junk. A wholesome sandwich with rye bread and veggies or baked ragi cookies can be great after-school snacks.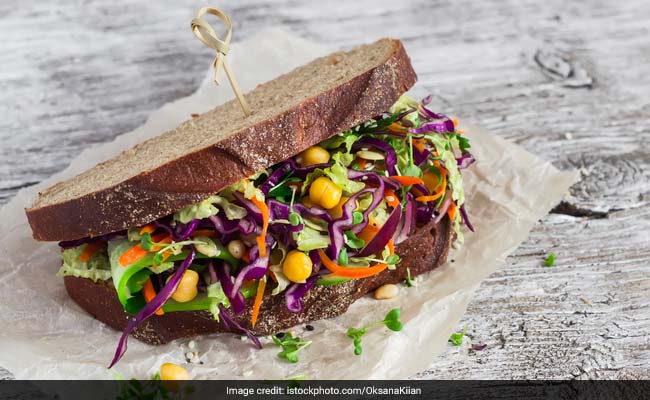 3. Are your children picky eaters? Don't worry; just put your thinking caps on. Here's some inspiration. If they don't like to eat fruits, blend a quick smoothie for them or layer a mason jar with fruits, oats, nuts and seeds to make an oats pudding or if you're a decent cook try oat pancakes served with fruit jam. Similarly, you can sneak those dark leafy greens with mac and cheese. You'll agree, cheese makes everything better! Try our lovely recipe of baked eggs that is easy to make and cleverly sneaks in spinach and cherry tomatoes.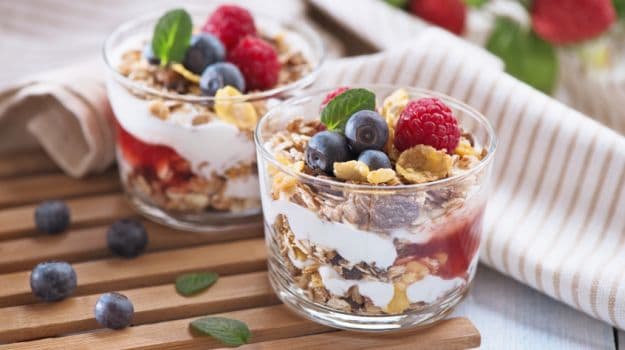 Try an oats pudding to make breakfast exciting. Photo Credit: Istock
4. Milk is not friendly with most of the kids. But they do need their daily dose of calcium for steady growth and development. Who doesn't love chocolate? Add a pinch of cocoa powder or blend a chocolate chunk with the milk and you'll definitely be able to impress them. Add a drop of honey. It will not only lift up the flavour but is also a healthier alternative than refined sugar. You can even use spices like cinnamon for its tempting aroma or turmeric to add a happy yellow colour. Alternatively, try other forms of milk like curd with fresh fruits or quick cottage cheese wrap for lunch.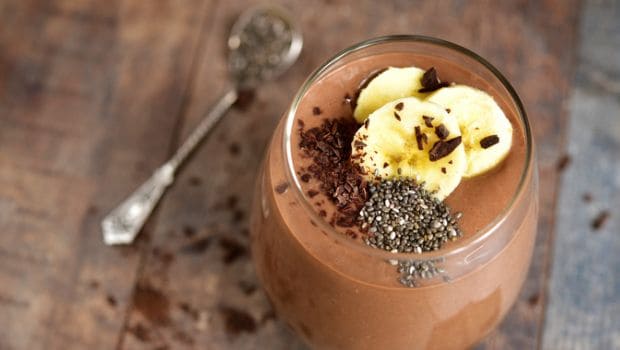 Add a pinch of cocoa powder if you're kids don't like milk. Photo Credit: Istock
5. Kids are hungry all the time. So come evening, and they'd probably be hunting for something crunchy to much on. Swap those attractive bags of potato chips with flavoured makhanas, puffed murmuras, stuffed dates, whole grain crackers with beetroot hummus and fried nuts. Keep a variety as it will excite them and turn their attention away from the good old potato chips.
If you'd like to try your hand at whipping something quick and healthy for your kids, here are three easy-peasy recipes.
Yogurt Parfait
Recipe by Chef and Food Strategist Swasti Aggarwal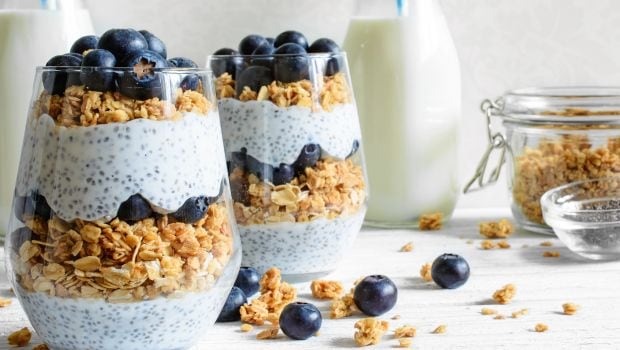 Ingredients:
Granola or oats or muesli
Hung curd
Fresh fruits
Honey
For garnish – nuts, seeds and chocolate chips
Method:
Layer hung curd with granola, fresh fruits, honey, nuts and seeds and top with chocolate chips for the perfect sweet breakfast.
Avocado & Vegetable Toastie
Recipe by Chef and Food Strategist Swasti Aggarwal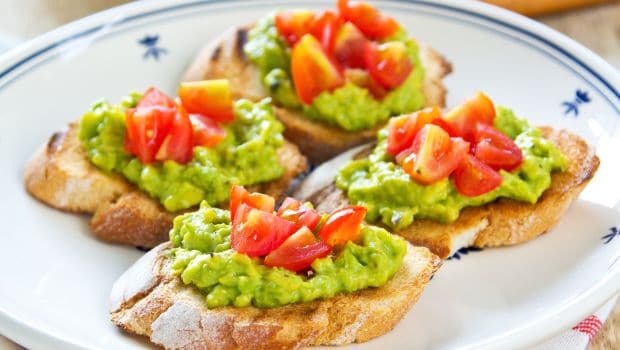 Ingredients:
2 slices of rye toast
1 mashed avocado
Chopped cucumbers
Chopped tomatoes
Cheese
Method:
Spread the mashed avocado on the rye toast and layer it with the chopped vegetables. Put cheese on top and layer it with the second slice of bread. Grill the sandwich and serve it.
Berry Chia Jam
Recipe by Chef and Food Strategist Swasti Aggarwal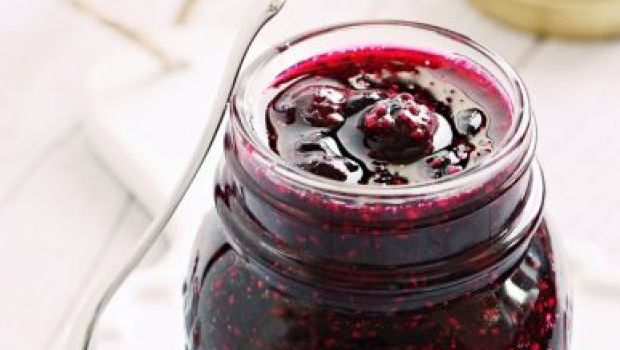 Ingredients:
3 cups fresh blueberries or strawberries
3 tsp lemon zest
1/4 cup fresh lemon juice
4 Tbsp maple syrup or honey
1/4 cup chia seeds
Method:
In a saucepan, add the berries, lemon juice and maple syrup. Let it simmer over medium heat. Stir occasionally until the berries breakdown. It should take about 5 minutes. Mash the berries with the back of your spoon and bring it to a boil. The juices should reduce by half in about 5 to 10 minutes more. Stir in the chia until the seed have softened. Take it off the heat and let the jam cool down slightly. Transfer this to heat-proof jars and store in the refrigerator.
Quinoa Coconut Pancake
Recipe by Chef and Food Strategist Swasti Aggarwal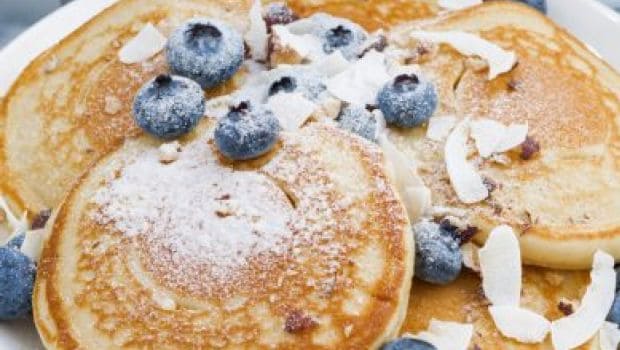 Photo Credit: Swasti Aggarwal
Ingredients:
55 grams unsweetened desiccated coconut
60 grams quinoa flour
1 tsp baking powder
1 medium egg
160 grams coconut milk
30 grams coconut palm sugar
1 tsp vanilla extract
200 gram fresh fruits
Coconut oil, to cook
Method:
To make the pancakes, blend the desiccated coconut in a food processor for 2-3 minutes. Add this to a large bowl and mix it with quinoa flour and baking powder. Whisk in the coconut milk, egg, coconut palm sugar and vanilla extract until it forms a thick batter. Let it stand for 20-30 minutes to allow it to thicken. Finally, stir in the fruits. Heat a non-stick frying pan and lightly grease with coconut oil. Pour one spoonful of the batter onto the pan and quickly spread the mixture out with the back of the spoon or by swirling the pan slightly. When the pancake is golden brown on the bottom and the top is beginning to set, carefully flip it over. Let it brown on the other side as well. Serve fresh fruits and coconut flakes.
["source-food.ndtv"]