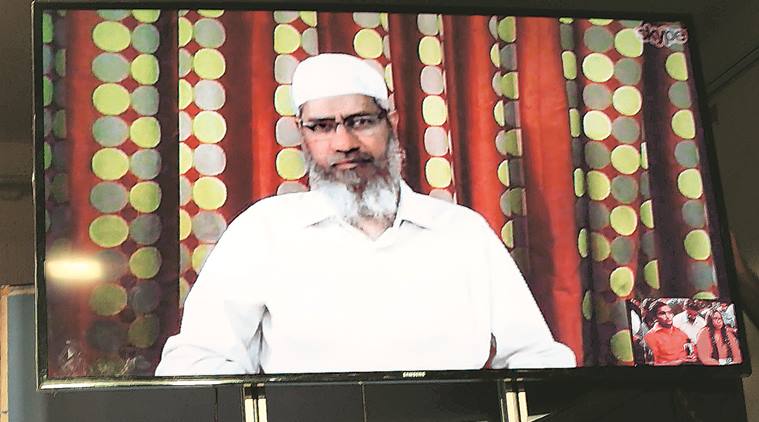 BESIDES HIS NGO, Islamic Research Foundation (IRF), televangelist Zakir Naik also set up two real estate companies and a video and television software production house in Mumbai in the period between 2005 to 2008, according to records available with the Registrar of Companies (RoC).
The RoC records show that Zakir Naik and his wife, Farhat Zakir Naik, were promoters-cum-directors of the two real estate companies — Longlast Construction and Right Property Solutions — till March 2013. Both these companies did not report any income in the seven-year period between FY'09 and FY'15, although one reported a surge in borrowings.
The video and software production house, Harmony Media, however recorded significant revenue growth.
Meanwhile, the IRF's foreign funds are also being probed by the government. Earlier this week, home ministry sources said the NGO received about Rs 15 crore in the four years till 2012, mainly from UK, Saudi Arabia and other Middle-East countries.
Incorporated in 2008, Longlast Construction reported a steady increase in its long-term borrowings from related parties — Arshad Wahedna, Nailah Naushad Noorani (RoC documents show his father's name as Abdulkarim Mohammed Naik, which is the name of Zakir Naik's father) and Aamir Abdul Mannan Gazdar (director in the company).
According to the company's balance sheet, while its total long-term borrowings stood at Rs 2.9 crore at the end of March 2010, it rose to Rs 14.8 crore at the end of March 2015. Of this, Rs 10.8 crore (72.9 per cent of the aggregate borrowing) was borrowed from Wahedna, and Rs 4 crore (27 per cent) from Noorani.
Right Property Solutions, incorporated in May 2008 and promoted by Zakir Naik, his wife and father, also did not report any revenue in the last seven years.
Harmony Media was incorporated in 2005. Zakir Naik was the managing director from May 8, 2006 till he resigned on March 13, 2013. His wife was appointed on the board on May 8, 2006, and resigned on March 15, 2013.
Unlike the two real estate companies, Harmony Media reported a steady growth in revenue — from Rs 4.7 crore in 2008-09 to Rs 10.16 crore at the end of March 2015.
The promoter of Harmony Media, Aamir Abdul Mannan Gazdar, is also on the board of Longlast Construction.
The Indian Express sent a detailed e-mail to Zakir Naik's spokesperson on Wednesday, seeking details of his association with Arshad Wahedna and reasons for setting up two non-operational real estate companies. His spokesperson said he would send a reply, but did not respond despite reminders.
The RoC documents also show that Noorani was appointed on the board of the two real estate companies on March 12, 2013, after Zakir Naik resigned from their boards on February 28, 2013. He was also appointed on the board of Harmony Media six months after Zakir Naik resigned from the company.
Other than these associations, Naik is a partner in Modern Diagnostic Centre based in Mumbai and his wife Farhat is the proprietor of Islamic Books International, in Dongri, Mumbai.
[Source:- The Indian Express]