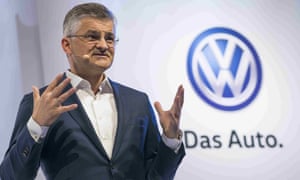 The head of Volkswagen in the US resigned "effective immediately" on Wednesday night as the company struggles to agree on a settlement with the US government over its emissions cheating scandal.
Michael Horn, who had served as VW's US president and chief executive since 2014, was not quoted in the company's three-paragraph statement announcing his immediate exit from the firm after more than 25 years of service.
VW said Horn's resignation was by "mutual agreement" and he would be "leaving to pursue other opportunities effective immediately".
The company did not explain why Horn was leaving the company now – six months after VW was caught using "default device" software to systematically cheat on US regulators' tests.
Martin Winterkorn, the global CEO of VW, resigned in September 2015 in the near-immediate aftermath of the scandal, which has wiped billions of euros of VW's market value and left the company facing fines of as much as $20bn and a criminal investigation by the US Department of Justice.
It was revealed last week that Winterkorn was told about the illegal emissions crisis more than a year before the company admitted it to regulators.
Horn has at times appeared frustrated with the German company's handling of the crisis. When he was called before the US Congress in October, he denied any prior knowledge of the software, and said its installation was not a corporate decision. "I agree it's very hard to believe," he told lawmakers. "Personally, I struggle too."
Herbert Diess, CEO of Volkswagen brand, said: "I want personally to say 'thank you' to Michael Horn for the great work he has done for the brand and with the dealers in the United States. During his time in the US, Michael Horn built up a strong relationship with our national dealer body and showed exemplary leadership during difficult times for the brand."
Horn will be replaced on an interim basis by Hinrich Woebcken, who was recently appointed head of VW in North America.
A federal judge has given the company until 24 March to reach an agreement with the government on recalling the affected vehicles. Both state and federal regulators will have to sign off on any planned recall. VW has not indicated whether it will be able to meet the deadline.
The "defeat device", which dramatically reduced VW diesel emissions only when cars were undergoing regulatory tests not when they were on the road, was installed in 6000,000 vehicles in the US and 11m across the world.
VW has set aside €6.7bn to deal with the costs of recalling and fixing cars across the world, but penalties in the US lawsuit could cost Volkswagen more than $30,000 per vehicle, which could total as much as $20bn. Analysts have warned that the total cost of the scandal could be as high as €78bn, which would be 60% more than the Deepwater Horizon disaster
cost BP.
[Source:- Guardian]