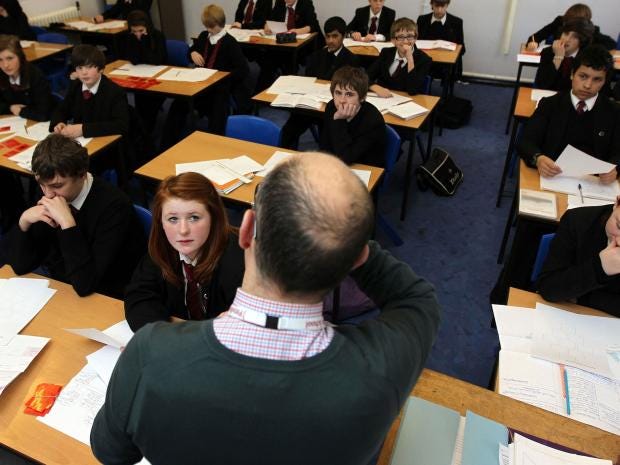 Government proposals which could see half of overseas teachers forced to leave the country will increase the teacher recruitment crisis to record levels, the NASUWT teachers' union has warned.
Theresa May, the Home Secretary, is currently considering plans to raise the minimum salary for all skilled migrants from outside the EU from £20,800 to £30,000.
It is estimated that while the £30,000 cap would affect 14 per cent of all applications from skilled workers, it would hit 48 per cent of secondary and 55 per cent of primary teachers coming from abroad.
The proposals would affect both overseas teachers wanting to move to the UK and those already in the UK.
If the cap of earnings is not reached within five years, the teachers would be forced to leave the country.
The union has written to the Home Secretary to call for teachers to be exempt from proposals to raise the minimum salary threshold for migrant workers.
The United Kingdom's points-based 5 tier visa system is the main immigration route for migrants from outside the EU to come to the UK to work, study, invest or train.
The proposals concern Tier 2 migrants – the category for "skilled workers" from outside the EU who have a job offer in the UK. It includes skilled workers who are transferred to the UK by an international company, and skilled workers where there is a proven shortage in the UK.
Chris Keates, General Secretary of the NASUWT, called for teachers to be exempt from the proposals but also for better pay for all teachers. She said: "The fact that the application of this cap would result in over half of overseas trained teachers having to quit their jobs shows the extent to which the Government's pay policies have depressed teachers' salaries.
"Teachers now no longer can aspire to earn anything above their starting salary.
"An overseas trained teacher therefore could, like other teachers, find the cap is out of reach and impossible to reach within the time limit.
"Schools are currently in the grip of a teacher recruitment and retention crisis. The imposition of this cap will exacerbate the problem, making a bad situation even worse.
"The NASUWT will be continuing to press the Government to exempt overseas trained teachers from the salary cap, but the solution is to end the pay restraint which has been imposed on teachers and end the discriminatory and unfair barriers to pay profession which have made teaching uncompetitive and unattractive."
Immigration minister James Brokenshire responded to the union saying that the £30,000 threshold proposals had been made by the Migration Advisory Committee and the Government was still considering its recommendations.
[Source:- UK education news]