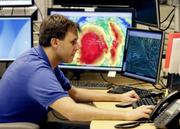 – Travelers along the East Coast are preparing for delays and cancelations as Hurricane Matthew heads toward the U.S.
Airlines are preparing to suspend flights from Florida up through Georgia, South Carolina and North Carolina, depending on where the hurricane strikes. Cruise lines are shuffling ship itineraries and many frantic vacationers are looking at insurance policies to see if they are covered.
Here's a quick guide as to what you need to know.
AIRLINES
Most airlines are letting fliers change to a later flight with no penalty. Policies vary by airline, but passengers heading to or from most airports in the Southeast can essentially move to any flight within the next week or so for free, although a difference in fare may apply in some cases.
If you can't move your flight, don't expect a refund – yet. For that to happen, the airline has to actually cancel your flight. That usually happens a day before departure with a big storm. However, given the unpredictable path of a hurricane, airlines might wait until an hour or two before a flight to cancel it.
Where to find travel alerts for the five largest U.S. airlines:
[Source:-AP]