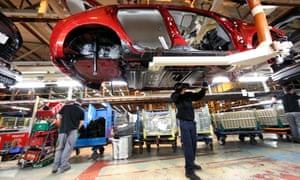 UK will continue to attract investment, chancellor says
Philip Hammond, the new(ish) chancellor, says Britain will remain an outward-looking country, attractive to foreign companies:
In a statement released to coincide with a visit to Jaguar Land Rover (owned by India's Tata), he said:
As an outward-looking country, we will continue to attract companies to invest and grow in the UK, while supporting British businesses.
His boss Theresa May will attend the G20 summit in China later this week, where she is expected to tell world leaders Britain is "open for business" and keen to forge relationships with new markets.
Facebook
Twitter
Google plus
37m ago10:52
Pound jumps on UK manufacturing rebound
Time to buy euros?
The pound has risen sharply following the surprisingly strong August manufacturing PMI.
It is up 0.9% against the euro and earlier hit a one-month high. The pound is also up 0.7% against the dollar at $1.3236.
Neil Wilson, market analyst at ETX Capital:
We're seeing a strong bid for sterling after a stonking manufacturing PMI showed the UK's factories sparked back into life in August following the July post-Brexit slowdown.

The pound is cranking higher on the results, with cable now trading around $1.3250, its best since the Bank of England cut interest rates a month ago.

The focus will now be on the key services sector PMI [on Monday]. The omens are good, with consumer spending very robust.

However, let's remember that Brexit negotiations have not even begun yet so there is still plenty of time for things to turn south.
Facebook
Twitter
Google plus
1h ago10:12
Weak pound boosts UK manufacturing exports in August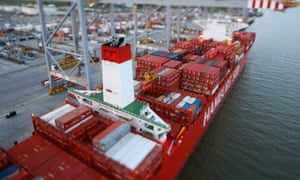 The five-point jump in the headline index of the August UK manufacturing PMI was a major rebound for the sector.
It was the joint biggest monthly surge in the survey's near 25-year history, and will add weight to the view that the June Brexit vote has not (yet) plunged the UK economy into crisis.
Output, new orders, and employment all jumped in the sector in August. Firms taking part in the survey said stronger demand, new product launches, and customers committing to new and previously postponed contracts all boosted business.
Manufacturers said the drop in the pound since the Brexit vote had driven a rise in exports, with swelling sales to overseas markets such as the US, Europe, China, Southeast Asia, the Middle East and Norway.
A weak pound makes British goods cheaper abroad, which is a good for exporting businesses. But it also makes imports from other countries more expensive, and evidence of this could be seen in the August PMI.
Input prices – those paid by manufacturers for their raw materials – increased at the fastest rate in more than five years in August. About 44% of firms reported a rise in purchasing costs.
Factory gate inflation – the price charged by manufacturers as they leave the factory – also rose at the fastest pace for five years.
Rob Dobson, senior economist at IHS Markit, says the August report suggests the sector has swerved a (Brexit-induced) downturn:
The August PMI data indicate a solid rebound in the performance of the UK manufacturing sector from the steep downturn that followed the EU referendum.

Companies reported that work that had been postponed during July had now been restarted, as manufacturers and their clients started to regain a sense of returning to business as usual.

Inflation is raising its ugly head, however. Rates of increase in input prices and output charges both hit five-year highs, which manufacturers placed squarely at the door of the cost impact of sterling on import prices.

It is too early to say whether the rebounds in growth and inflation will be sustained, but the upturn in August suggests that the weaker exchange rate and recent policy action have helped to avert a downturn.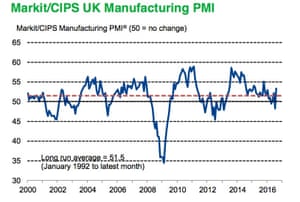 Facebook
Twitter
Google plus
2h ago09:34
Surprise surge in UK manufacturing in August
Big upside shock for UK manufacturing PMI in August.
The headline index jumped to 53.3 from 48.3 in July. Economists had expected the index to remain in contraction territory (below 50) at 49.
More soon.
Facebook
Twitter
Google plus
2h ago09:31
Eurozone manufacturing PMI: growth could slow further
Looking at the detail of the eurozone manufacturing PMI survey, rates of growth slowed for production, new orders, and new export business, which in turn resulted in weaker job creation.
Chris Williamson, chief business economist at IHS Markit, said there were suggestions from the firms surveyed for the PMI that growth could slow further.
There is some suggestion of a Brexit impact, and growth may wane further in September after new orders growth slipped to a one-and-a-half year low. Anecdotal evidence suggests that the strengthening of the euro and reduced sales to the UK were partly to blame for the order book slowdown.

Employment growth also eased to a five-month low, indicating an increased hesitancy to hire amid the heightened political uncertainty.

Once again, it's also a worryingly mixed picture across the region. Northern countries including Germany, the Netherlands and Austria are providing the main power to the expansion, but elsewhere the picture is looking more subdued. France and Italy are in decline, Greece is stagnating and both Spain and Irelandare enduring their worst growth spells since mid-2013.
Here is a country breakdown of the headline numbers for August. Anything above 50 signals growth, anything below 50 signals contraction: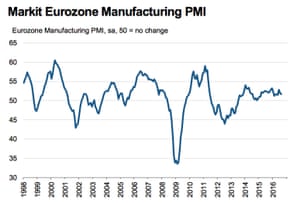 Facebook
Twitter
Google plus
2h ago09:05
Breaking: eurozone manufacturing growth hits three-month low in August
Activity in the eurozone's manufacturing sector grew at the slowest rate in three months in August according to the latest survey.
The headline index on the Markit PMI edged down to 51.7 in August from 52 in July. Anything above 50 signals expansion.
A breakdown of the surveys from the eurozone's biggest economies showed a mixed picture.
In Germany, the sector grew in August at the same pace as July, as expected. It was the same story in Spain.
But Italy was a miss, with the manufacturing sector shrinking unexpectedly in August, and in France the sector contracted at a slightly quicker rate than July.
Facebook
Twitter
Google plus
3h ago08:53
Oil prices rise 0.6%
The price of a barrel of Brent crude oil is up 0.6% this morning at $47.19.
The better-than-expected manufacturing data out of China has also pushed the prices of London zinc, lead and tin to the highest level in more than a year. China is the world's biggest user of metals.
Miners on the FTSE 100 are reaping the rewards this morning: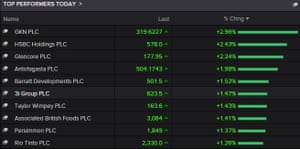 Facebook
Twitter
Google plus
3h ago08:34
European markets rise in early trading
Europe's major markets are all up this morning, starting September off on a positive note.
The FTSE 100 is up 43 points or 0.6%, boosted by mining shares that have been a drag in recent days.
The miners are helped today by the better-than-expected Chinese manufacturing data, which is a positive for global demand and is pushing up commodity prices.
Germany's DAX: +0.3% at 10,625
France's CAC: +0.6% at 4,464
Italy's FTSE MIB: +1% at 17,110
Spain's IBEX: +0.6% at 8,771
Europe's STOXX 600: +0.5% at 345
Facebook
Twitter
Google plus
3h ago08:20
Surprise rise in activity in China's factories
Activity in China's factories rose unexpectedly in August at the fastest pace in two years as construction boomed in a sign government spending is paying off.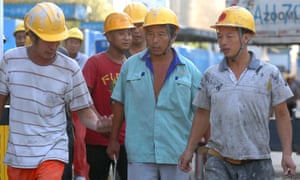 The official purchasing managers' index rose to 50.4 in August from 49.9 in July – crucially taking the index above the 50 mark which signals growth. Economists had expected the headline index to remain unchanged at 49.9.
The best manufacturing performance since late 2014 is likely to add to views that China's central bank will be in no hurry to inject further stimulus into the world's second largest economy.
Julian Evans-Pritchard, China economist at Capital Economics, said the survey would boost confidence:
This ought to boost sentiment and suggests that earlier policy easing is still being supportive of economic activity.

Today's PMI readings paint a fairly reassuring picture about the current state of China's economy and fit with our long-running view that earlier policy stimulus ought to be sufficient to shore up growth until the end of this year.
Facebook
Twitter
Google plus
3h ago08:00
Also today: global healthcheck with manufacturing PMIs
The first of the PMI surveys for August will be published today, starting with manufacturing in the eurozone, UK and US.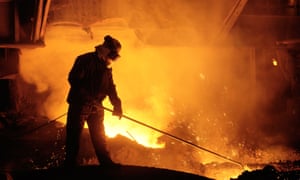 The PMIs are business surveys rather than official data, but they are closely watched by central bankers, investors and economists, not least because they give the earliest indication of how an economy is performing. There is more of a lag with much of the official data.
As we begin a new month, attention is turning to potential action by the world's central banks as they prepare for their next policy meetings.
In the UK and eurozone, the likelihood is for further stimulus, whereas in the US – where economic data and the outlook has been generally more robust – attention is focused on the timing of the next rate hike.
The PMI surveys will be scanned for any clues on whether policy action is more or less likely in the world's major economies.
Weekly jobless claims will be published later in the US, ahead of the crucial non-farm payrolls report on Friday which is expected to give the clearest signal as to whether the US Fed will raise rates this month.
[Source:-The Guardian]