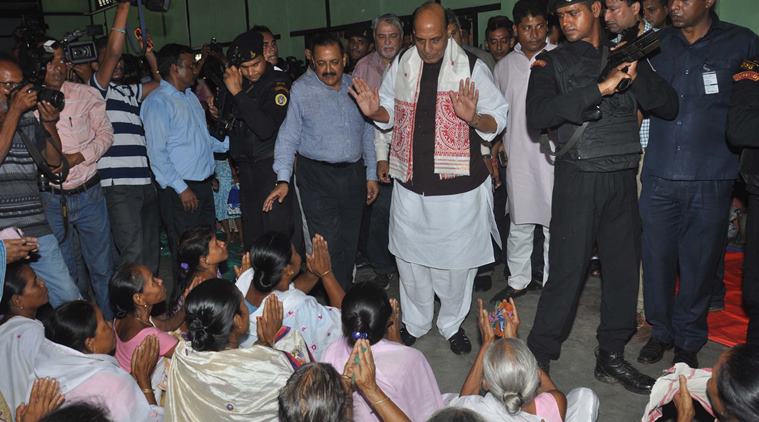 Even as the death toll in the current wave of devastating floods in Assam claimed 26 lives and affected 37 lakh people in the state, union home minister Rajnath Singhon Saturday in Guwahati called for finding long-term solutions to tackle the recurring problem.
"Short-term measures are temporary. What we require is a series of long-term measures to tackle such a huge problem. I had never imagined before coming here that the floods have wreaked such havoc in Assam," Singh, who made an aerial survey of the floods in Nagaon and Morigaon districts and also over Kaziranga National Park on Saturday said. He also visited one relief camp in Morigaon district and interacted with the inmates there.
The home minister however dismissed demands for declaring the Assam floods as a 'national calamity' and said merely making such a declaration and doing nothing would be meaningless. "Simply declaring the floods in Assam as a national calamity cannot help solve the problem unless we take up a series of long-term measures," he said. "But I must admit that tackling the flood situation is a major challenge before the state government," he added.
Singh also expressed concern over embankments along the Brahmaputra and many of tributaries outliving their lifespan and efficacy to hold the fury of floods. "This issue (of embankments completing their lifespan) had come up during our discussions with the state government today," the union home minister said.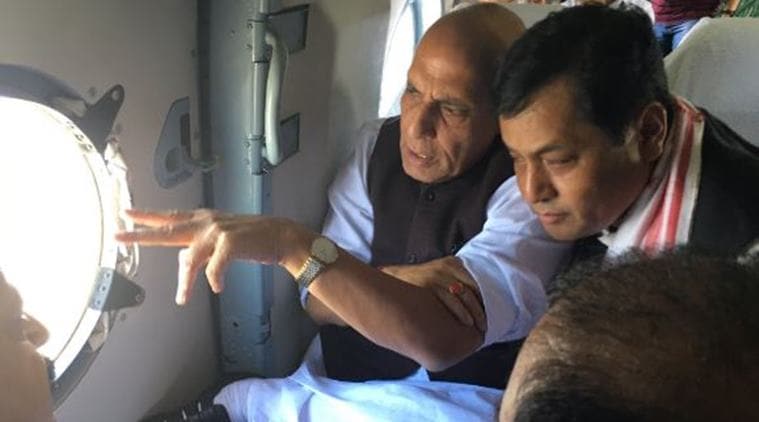 Rajnath Singh accompanied by Assam CM Sarbananda Sonowal and Dr Jitendra Singh conducting aerial survey of flood hit areas in Assam. (Source: Twitter/ @HMOIndia)
Most portions of the 700-km long embankments along both sides of the Brahmaputra were first constructed in 1954-56, and though their lifespan was about 25 years, most portions have only undergone repair and reinforcement, rendering them vulnerable to major waves of floods that return to Assam almost every alternate year.
Union minister Singh, who was accompanied by Assam chief minister Sarbananda Sonowal, state water resource minister Keshab Mahanta, health minister Himanta Biswa Sarma and DoNER minister Jitendra Singh, also assured of all required support to the state government in providing relief and rehabilitation to the flood-affected people. "There will be no dearth of funds. I have asked Sonowal not to worry about funds from the Centre. The state government already has Rs 620 crore in its state disaster relief fund," Singh said.
Despite that however Rajnath Singh appealed to NGOs and voluntary agencies to come forward to help the Assam government in particularly tackling the post-flood situation. "I appeal to NGOs and other such agencies to come forward and help the Assam government and the flood victims," he said. He expressed happiness that the state government had promptly provided Rs 4 lakh to the next of kin of persons who have died in the floods.
Deaths: 26 in floods, 51 in other calamities
Assam Chief Minister Sarbananda Sonowal gives ex-gratia relief of Rupees four Lakh to next of kin of those who died due to floods as Union Home Minister Rajnath Singh and Union DoNER Minister Jitendra Singh look at a relief camp, at Bhakat Gaon in Morigaon district of Assam on Saturday. PTI photo
With the death of four more persons on Saturday, the death toll in this year's floods and other natural calamities in Assam has gone up to 77. The memorandum submitted by chief minister Sarbananda Sonowal to union home minister Rajnath Singh said while 25 persons have died so far in the floods, 34 lost their lives due to thunderstorms 17 in landslides in the state in the current year.
Those killed in natural disasters including the current wave of floods include several children. On Thursday, a six-year old girl was drowned in Chirang district while she had gone out from her house to defecate by the side of a river.
The Assam government memorandum, which put the total number of people affected by floods at 36.67 lakh till Saturday, also said that ove 4.90 lakh people have been put up in 970 relief camps. The floods have so far fully or partially damaged over 42,000 houses, while the figure is likely to go up as the floods completely recede.
[Source:- The Indian Express]