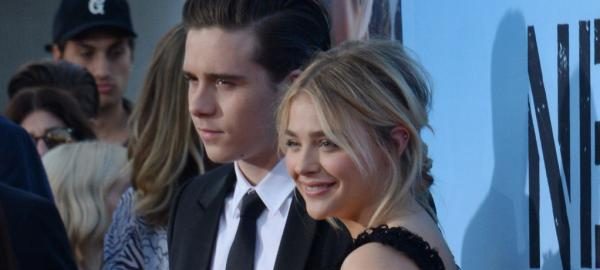 Brooklyn Beckham is feeling protective of girlfriend Chloe Grace Moretz.
The 17-year-old model showed his support for the 19-year-old actress Thursday on Instagram after Moretz faced criticism for posting a topless photo the day previous.
"Keeping her safe," he captioned a picture of himself carrying the Neighbors 2: Sorority Rising star.
Social media users had accused Moretz of hypocrisy after she shared a photo of herself with her naked back to the camera. The actress had called out Kim Kardashian for posting a nude selfie in March.
"Hypocritical of her to post a topless picture after criticizing Kim Kardashian," one person wrote in the comments. "I mean sure Kim's was more revealing but still."
"She has every right [to], but I think it's hypocritical of her when she preached so much about someone else doing it," another added.
Moretz had accused Kardashian of failing to teach young women that "we have so much more to offer than just our bodies." The actress stood by her comments in a subsequent interview with Glamour.
"That picture wasn't linked to body confidence," she told the magazine. "It was done in a slightly voyeuristic light, which I felt was a little inappropriate for young women to see."
"i would hate for young women to feel they need to post certain photos in order to gain likes, retweets, favorites and male attention," the star added. "I wasn't slut-shaming."Beckham, the eldest son of retired soccer star David Beckham and designer Victoria Beckham, was first linked to Moretz in April. The actress called Beckham a "huge support" in her life in a June interview with Elle.
[Source: UPI]