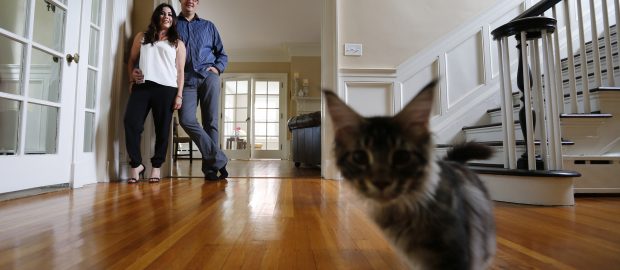 Visit the early 20th century home of Dr. Torsten Behrens and Josephine Zagarella and there are no signs of the hidden surprises the couple faced during its renovation. Sure they knew that the old carpeting, wallcoverings and paint colors had to go. It was clear that the kitchen and bathrooms needed updating. But what they didn't plan on was the discovery of so many rotted boards when the exterior paint was being scraped off – far more than they had expected. Or that the floor in the breakfast room had to be rebuilt.
"We have a lot of 'before' and 'after' pictures," said Behrens, 37, an emergency physician with UB/MD Emergency Medicine.
With these and other setbacks behind them, the makeover of the home they bought four years ago in Buffalo's Central Park neighborhood is nearly complete.
Married for 16 years, Behrens and Zagarella previously lived in a small apartment. "We went from 750 square feet to 3,000-plus square feet," said Behrens, who was born and raised in Germany.
—
GALLERY: HOME OF THE MONTH IN BUFFALO'S CENTRAL PARK NEIGHBORHOOD
—
As new homeowners, the couple was committed to renovating with high-quality materials that reflected the original – replacing rotted cedar planks with new cedar ones, for example. The exterior makeover also included replacing landscaping and fence; adding new wood shutters, pillars and lighting, and more.
Travis Holloway, of Travco Remodeling, estimated that he replaced about half of the siding on the outside as well as scraping, priming and repainting the existing boards. He also replaced the trim where needed and replaced all rotted wood on the dormers. Inside, he did a complete restructuring of the floor in the breakfast room, which was likely added at some point after the house was built, on top of the brick patio.
"The floor was uneven and sagging. I removed the brick from underneath it and reframed the floor completely," Holloway said.
"It's an old house. You always find these things. Sometimes it's a pleasant surprise and other times it's another problem to resolve," said Buffalo interior designer Denise Cornell, of Denise Cornell Custom Interiors, who helped with the fabric selection and design of the window treatments.
The house, indeed, has many appealing qualities. The hardwood floors, crown molding, built-in china cabinet, two fireplaces, 10-foot ceilings and original butler's pantry are of the type people rave about in Buffalo's old homes. Original hardware can be found throughout; Zagarella researched a technique for removing paint from old hardware that involves boiling them in water and laundry detergent.
"It works like a charm," said Zagarella, 38, who grew up in North Buffalo and graduated from Bennett High School in 1996.
The French doors in the living room that open to an adjoining room were found tucked away in the attic. The house also has lots of storage, including built-in drawers in closets. When the couple hosted a group from China, their guests pointed out that their home has good feng shui.
The house will be featured as part of Explore Buffalo's "Autumn Tour of Homes: Central Park Neighborhood," scheduled from 5 to 8:30 p.m. Sept. 23. See explorebuffalo.org for information on this and other tours.
A history of the house states that it was designed in the Colonial Revival style by architect Daniel G. McNeil and built in 1919 for Charles H. Teiper, secretary and treasurer of the Buffalo Structural Steel Co. It was the only house the couple looked at.
Zagarella said she found it online and they went to the open house. At first Behrens said "no way" and walked out. But Zagarella had a feeling. She said to the real estate agent, "I'm buying this house."
While keeping the footprint, the couple remodeled the kitchen in 2013 with white maple cabinets that echo the style of those in the butler's pantry. It also features a farmhouse-style, apron-front sink; quartz countertops; ceramic tile floor; KitchenAid stainless steel refrigerator, double oven and dishwasher; Wolf cooktop, and an Italian-made XO island hood.
"I wanted to add a modern flair but keep the old world charm," Zagarella said.
One section of a wall serves as a chalkboard. As can be seen throughout the house, original and unique artwork and photographs accent the walls.
Zagarella said she is a perfectionist when it comes to details – be it the exterior trim or the interior furnishings, which range from Pottery Barn purchases to estate sale finds.
"I don't like to buy just to buy. I wait until something speaks to me," said Zagarella, a lecturer in the business department at SUNY Buffalo State.
There's no particular theme in the decor, said Zagarella, who said they prefer to decorate with items purchased while traveling or from local artists and estate sales.
The couple paid $375,000 for the house and estimate they have invested about $100,000 to $120,00 into it.
Looking forward, the couple plan to replace the brick patio. And while one full bathroom on the second floor has been renovated – Creative by Design did the work – the master bathroom is in need of a total makeover.
"The master bathroom will be a project and a half," Zagarella said.
…
The blue print: A mix of old and new with much attention given to the details
Dr. Torsten Behrens and Josephine Zagarella bought this three-bedroom, 3 and 1/2-bath home in Buffalo's Central Park neighborhood in 2012. They have nearly completed renovating and refurnishing it. Here is a peek inside:
The floor plan: A living room off one side of the foyer opens to a light-filled room used as an office. A dining room on the other side leads to a butler's pantry and kitchen. There's a breakfast room, first-floor laundry and half bath. The stairs were restored by Amherst Finishing. There are two guest rooms and master bedroom suite upstairs. One full bath has been remodeled, but the master bath, which was once a bedroom, has yet to be. The house has an attic and basement.
Furniture: Highlights include a dining table with rustic finish from Pottery Barn that extends to comfortably seat 12. The Pottery Barn dining chairs are upholstered in light wheat-colored suede with nailhead accents. The Chesterfield leather sofa and armchairs in the living room are also from Pottery Barn. A round leather-top table was purchased at Homeward Bound, which has since closed. A coffee table was purchased years ago at a local antique shop. The HEMNES eight-drawer dresser in one of the guest rooms is from IKEA. An accent table from Florence, Italy, in the second guest bedroom came from a flea market.
Floors: Hardwood with rugs; new ceramic tile in the kitchen.
Paint colors: Most are from Sherwin-Williams and include Kilim Beige in the living room, Italian Latte in the dining room and Nomadic Desert in the hallway. The kitchen is painted Martha Stewart Rainwater. The wood trim is Behr's Swiss Coffee. Upstairs, the remodeled bath is Proper Gray and the master bedroom is Swanky Gray. One guest room is Glamour; the other is Nomadic Desert – all from Sherwin-Williams. The exterior, formerly Colonial blue, is now Smoky Blue by Sherwin-Williams, with black shutters and white trim.
Window treatments: Mostly Roman shades and drapery panels; plantation blinds in the breakfast room; shutters in the bath; valance in the kitchen.
[Source:-Life & Arts]