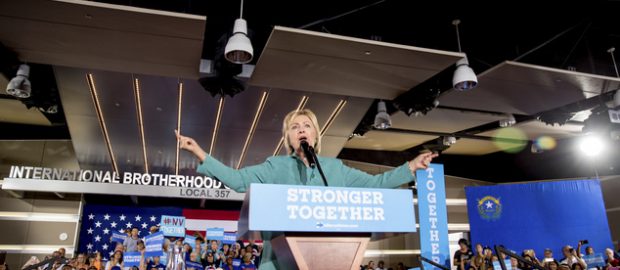 The Latest on the 2016 presidential campaign (all times EDT):
4:40 p.m.
Republican Donald Trump is lashing out at Hillary Clinton as he campaigns in Iowa, declaring her "pretty close to unhinged."
Trump told supporters at a Friday rally in Des Moines that, "if Hillary Clinton becomes president, you will have terrorism. You will have problems. You will have really the destruction of our country from within. "
He went on to label her as "unstable," "a dangerous liar" and says she "lacks the judgment, temperament and moral character to lead this country."
"She's really pretty close to unhinged," he adds. "She's really like an unbalanced person."
The insults come as Trump has come under criticism from Republicans for getting sidetracked by other issues when he should be attacking Clinton.
Trump took the stage following an introduction from running mate Mike Pence.
___
2:20 p.m.
Hillary Clinton's running mate says a federal court ruling in Wisconsin that overturned a number of voting restrictions approved by Republicans will allow more people to vote.
Tim Kaine said at a campaign rally Friday in Milwaukee that he salutes the liberal groups that brought the lawsuit challenging more than a dozen laws backed by Republican Gov. Scott Walker and the GOP-controlled legislature. A federal judge last week ruled that limitations on early voting locations, hours and elements of the state's photo identification requirement were unconstitutional.
Kaine calls it a "big voting rights case."
Plaintiffs argued that the laws were designed to suppress Democratic votes and the judge agreed. Wisconsin's Republican attorney general has vowed to appeal so the changes won't take effect for the Nov. 8 election.
___
1:35 p.m.
Tim Kaine is taking a brewery tour on his first campaign stop in the battleground state of Wisconsin since becoming Hillary Clinton's running mate.
Kaine took a brief tour of Lakefront Brewery in the Democratic stronghold of Milwaukee on Friday before a campaign rally.
Kaine checked out fermentation tanks and got a brief history of the brewery along the shores of the Milwaukee River. Kaine admired an American flag-draped chalet used by the Milwaukee Brewers' mascot Bernie Brewer in the old Milwaukee County Stadium.
Kaine had asked during the brewery tour if Lakefront makes a kosher beer. Tour guide Dylan Mazurkiewicz told him that it does, something Kaine, who is Catholic, mentioned during the rally.
Reporters were led out of the tour before Kaine sampled any beer.
___
1:30 p.m.
Hillary Clinton says she knows that she has work to do to win over Americans' trust.
The Democrat presidential nominee has some of the highest unfavorable ratings of any presidential candidate in modern history. In many polls, a majority of Americans say they don't trust her.
She said Friday to a meeting of black and Latino journalists in Washington: "I take it seriously. It doesn't make me feel good when people say those things."
Clinton blames some of her low approval rating on Republican attacks, saying she gets higher marks from Americans when she is serving in public office.
She said, "Just maybe when I'm actually running for a job there is a real benefit from those on the other side with trying to stir up as much trouble as possible."
___
1:25 p.m.
Three Senate Democrats are pressuring Pennsylvania Sen. Pat Toomey and other Republicans to renounce Donald Trump, telling reporters that their wait-and-see stance is insulting to voters.
"This is an example of somebody who doesn't have the courage to stand up" to Trump, said Sen. Debbie Stabenow of Michigan, when asked about Toomey's campaign Friday.
Maryland Sen. Ben Cardin, the top Democrat on the Foreign Relations Committee, said Trump's "reckless, dangerous" remarks make clear Trump is unfit to be president.
Sen. Jeanne Shaheen, of New Hampshire, mocked Republicans who say they support Trump but don't endorse his candidacy. "That's baloney," Shaheen said. "We have seen what Donald Trump is doing to do," she said. He's not going to "straighten up."
Among those in the support-but-not-endorse category is Republican Sen. Kelly Ayotte of New Hampshire.
___
1:10 p.m.
Hillary Clinton says passing comprehensive immigration legislation will be a top priority for her administration if elected president, and her White House will be ready to introduce a bill "as quickly" as possible.
Clinton says her victory and Democratic wins in Congress will force Republicans to act on immigration.
She says, "There's nothing like winning to change minds."
Clinton was speaking Friday at a meeting of organizations of black and Latino journalists in Washington.
A bipartisan effort to overhaul the nation's immigration system passed the Senate in 2013, but died in the House in the face of strident Republican opposition.
Clinton says that, "I think the outcome will be very different this time."
___
12:40 p.m.
Hillary Clinton says President Barack Obama isn't getting the credit he deserves for leading the nation out of a crippling recession.
Speaking at an annual convention of black and Hispanic journalists, Clinton quoted the expression, "When the economy catches a cold, communities of color catch pneumonia."
She said "we are out of the ditch we were in" and should now focus on building upon progress. She said civil rights activist Rosa Parks may have opened up seats on the bus, but the nation's job is to make sure everyone can afford bus fare.
Clinton says she wants to invest more in infrastructure, generate more jobs for young people and help black entrepreneurs start businesses. She also promised in her first 100 days as president to propose comprehensive immigration legislation.
___
12:40 p.m.
House Speaker Paul Ryan says Donald Trump could cross a line that would prevent the speaker from backing him, but "Where that line is, I don't know."
Ryan reiterated his stance Friday that "With any endorsement of anybody, there's never a blank check."
Ryan was asked by host Charlie Sykes on WTMJ whether there's anything that would lead to Ryan "cancelling" that check.
Ryan responded: "Of course, but I'm not going to go down the road re-litigating past comments."
Trump shocked Republicans this week when he refused to endorse Ryan in Tuesday's Republican primary in Wisconsin, but Ryan is brushing it off. Ryan himself hesitated for weeks before ultimately endorsing Trump.
Ryan said: "I see no purpose in doing this tit for tat, petty back and forth with Donald Trump."
___
12:05 p.m.
Republican Sen. Pat Toomey of Pennsylvania says Donald Trump should be making the case against Hillary Clinton "rather than getting involved in other unrelated discussions."
Toomey, who is in a tough re-election race, is one of a handful of Republican senators who have not endorsed Trump. He says he is still "watching and waiting and evaluating."
But Toomey insisted on a conference call Friday that Pennsylvania voters understand that Trump "is in a category unto himself," and "will make a completely separate decision about the person they want representing them in the United States Senate."
Republicans are banking on that ticket-splitting theory in key Senate races, though Democrats dismiss it.
Toomey was also asked whether he would be more comfortable if Trump relinquished the nomination. He says it's Trump's decision.
___
11:35 a.m.
House Speaker Paul Ryan says his opponent in Tuesday's Wisconsin primary is backed by out-of-state interests peddling a "nasty virulent strain of something" that's not conservatism.
Ryan predicts voters will reject Paul Nehlen, a businessman and political newcomer who's benefited in recent days from Donald Trump's praise and refusal to endorse Ryan.
In an interview Friday on WISN radio in Wisconsin, Ryan also reiterated that the endorsement he cares about is from his own voters. Ryan said: "I'm just going to rise above this stuff and I'm not going to get involved in some sort of petty back and forth."
He says he will continue to speak out to condemn Trump's comments when necessary. Ryan says he wishes it weren't necessary but "that's just the way the cookie crumbles."
___
10:30 a.m.
House Speaker Paul Ryan's Republican primary challenger is on the defensive after saying he wants a discussion about deporting all U.S. Muslims.
Paul Nehlen's comments on a radio show this week have drawn derision from other Republicans. Asked for comment Friday, Nehlen released a statement that did not address what he said and instead called on Ryan to debate him.
Nehlen was asked whether he was calling for deporting all U.S. Muslims. He said, "I'm suggesting we have a discussion about it, that's for sure." He later said he wants to deport only Muslims who believe in Sharia.
Wisconsin Assembly Republican Majority Leader Jim Steineke tweeted that Nehlen was a "special kind of stupid." Assembly Speaker Robin Vos called him a bigot.
Trump has refused to endorse Ryan and praised Nehlen, giving him a burst of attention before Tuesday's primary.
___
9:25 a.m.
Republican Wisconsin Assembly Speaker Robin Vos says he is embarrassed about Donald Trump being the GOP presidential nominee, calling it a "sad day in America."
But he tells The Associated Press that he's not rescinding his support for Trump because he says Democrat Hillary Clinton would be worse.
Vos wrote a column in advance of a Trump rally Friday in Green Bay. He calls Trump out for saying "stupid things" and for praising House Speaker Paul Ryan's primary opponent. Trump said this week he was not ready to endorse Ryan.
Vos said "we are Ryan Republicans here in Wisconsin, not Trump Republicans."
In the interview, Vos said Trump needs to apologize for his comments about Ryan.
None of the top-ranking Wisconsin Republicans are attending the Trump event.
___
9:15 a.m.
Donald Trump has announced his team of economic advisers and it includes many of the people who have been already helping his campaign.
Among those on the team are John Paulson, a hedge fund billionaire; Dan Kowalski, a former staffer on the Senate Budget Committee; and Steven Mnuchin, a New York investor who is Trump's national finance chairman.
In the statement announcing the team, Trump's campaign also said he'll unveil a detailed jobs plan on Monday at the Detroit Economic Club. It said he will focus on "empowering Americans by freeing up the necessary tools for everyone to gain economically."
___
8:30 a.m.
Donald Trump's running mate, Mike Pence, is brushing off Republican concerns of turmoil in their campaign.
In recent weeks, Trump has angered fellow Republicans by criticizing parents of a soldier killed in Iraq and refusing to endorse House Speaker Paul Ryan and others for re-election. The feud has overshadowed Trump's criticism of Hillary Clinton.
Pence told NBC's "Today Show" that he is seeing "tremendous enthusiasm" for the Republican ticket. He said "Donald Trump and I are standing shoulder to shoulder to say to the American people, 'We can be strong again.'"
Pence also said Trump values the sacrifices made by military families: "This man has a heart for our soldiers."
___
7:28 a.m.
Donald Trump is making a rare admission he was wrong — in claiming he saw a video of a U.S. cash payment going to Iran.
Trump tweeted Friday that "The plane I saw on television was the hostage plane in Geneva, Switzerland, not the plane carrying $400 million in cash going to Iran!"
Trump has been expressing outrage about a $400 million payment the U.S. made to Iran this year. It was delivered on the same day that Iran released four Americans they had detained. Republicans call it ransom; the Obama administration says it was money the U.S. legally owed Iran.
Trump said Wednesday he saw video showing the money being delivered. The campaign acknowledged Thursday that this was incorrect, yet Trump repeated the claim hours later at a rally.
Republican presidential candidate Donald Trump speaks during a campaign rally at Merrill Auditorium, Thursday, Aug. 4, 2016, in Portland, Maine. (AP Photo/Evan Vucci)
Republican presidential candidate Donald Trump speaks during a campaign rally at Merrill Auditorium, Thursday, Aug. 4, 2016, in Portland, Maine. (AP Photo/Evan Vucci)
[Source:-daily Mail]