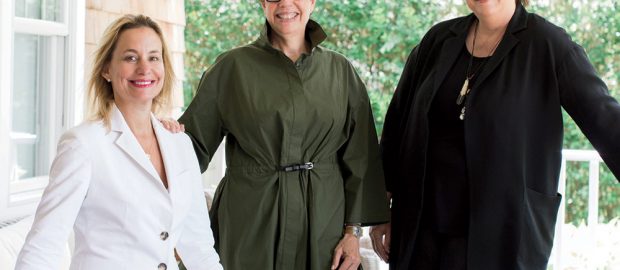 What is selling in New York right now?
Toni Haber: From a price perspective, it's $3 million and under, a much more brisk market. The product that's selling more is the building that has really nice finishes.
Are those mainly new buildings, or are they older and refurbished?
TH: Mostly, new construction is doing better. Although that might be shifting: People don't want to pay that price per square foot. I'm seeing a bit of a change where people are willing to buy and renovate.
Nancy Ruddy: As architects and interior designers, we are usually the canary in the mine, because we're working on projects two to three years before they come to market. What is selling are those projects that are highly differentiated—amazing finishes, rooftops, amenities within the apartments. Elizabeth Dow: Actually, one of the projects that I'm working on right now is in one of the maisonettes in the St. Vincent's Hospital conversion (The Greenwich Lane, 155 W. 11th St., 212- 633-1112). It's a very interesting property. People are looking for the outdoor space. This particular unit has a really nice courtyard on the main level as well as a terrace off the master bedroom.
TH: I think that Walker Tower (212 W. 18th St., 212-335-1800) was the first building to have a paradigm shift in how developers are developing buildings.
NR: As we were designing it, our client kept saying, "Nancy, what style is this?" And I kept saying, "This is Walker Tower."
Best of both worlds: The residences at Walker Tower in Chelsea provide upscale comforts—ultra-high ceillings, private outdoor space, smart-home technology— within an Art Deco masterpiece.
What type of palette are you working with, what kind of materials?
NR: In a planning sense, we were trying for what everyone loves about a pre-war building: There were foyers, there were bedroom corridors, there was this processional feeling. From a finishes standpoint, we decided not to be referential to Art Deco, but we had a lot of beautiful detail, like eight-foot-high, custom-designed doors.
ED: Architecture is providing us a tremendous amount of wall spaces for artwork.
NR: I think there's a lot of people who care about security and privacy. I don't mean paranoia security, but want that sense of living in a small community rather than a big building.
Almost going back to that co-op mentality—the exclusiveness of that?
NR: What we're doing in a number of buildings is having more than one elevator core. We're doing443 Greenwich (212-877- 4433). It's a turn-of-the-century warehouse. We've put six elevator cores in. And the elevators go directly into the apartment. We've talked about finishes, you can say square footage, you can say outdoor space, but I think that for a lot of people at the top of the market, privacy as a luxury is a new kind of amenity.
Let's explore that luxury. Elizabeth, I've seen a lot of your beautiful work, so tell us about what you're developing and selling in styles that connote luxury.
ED: I started in the interiors world through hand-painted wallcovering. As our world changes with this high-tech, vast information overload, I think that my clients are looking for the handmade, something that gives them comfort. They appreciate the quality of how things are made. For our textiles, I work with really outstanding mills. It actually has to feel good. It transcends the look of things. When clients are looking at a small piece of wallpaper and trying to make a selection for a room, I try to describe what's going to happen in that room after it's installed. When you walk in, you feel the difference. It really envelops you and, again, goes back to that feel-good sense of wellbeing. That's what we're trying to create within our home environment.
TH: Your wallpapers are in the White House—do you think Hillary Clinton or Trump is going to keep it?
[Source: Gotham]