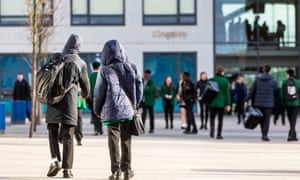 The demand for state school places in England went up again this year, resulting in one in six children missing out on their first choice at secondary level, according to official figures published on Tuesday.
Government statistics show that the number of applications for secondary school places this year jumped by 2.8% on 2015, as the recent baby boom that has put pressure on primary school numbers in the past few years moves up to secondary.
As a result, the proportion of pupils who got their first choice of secondary school went down slightly this year – 84.1% of 11-year-olds received offers from their first school preference, down from 84.2% in 2015 – suggesting local authorities have worked hard to lay on extra places.
Government data shows the number of applications at secondary level was at its highest since 2008. As in previous years, pressure on places in London was particularly intense, with just half (52%) of children in Hammersmith and Fulham getting their first choice and the situation little better in Westminster (53.4%).In other areas of the country, almost all children get their top choice, with 98.7% of applicants in Northumberland receiving an offer from their favourite school, and 98.6% in central Bedfordshire.
The pressure on places in primary schools also continued to grow with the number of applications continuing to rise, though at a slower rate than in recent years. As a result almost one in eight children was disappointed and missed out on their preferred school.
In recent years, primary schools in areas of high population growth have been forced to expand rapidly, building extra classrooms and converting existing buildings to accommodate growing numbers.
Council leaders have previously warned that local authorities would struggle to create new secondary school places because of government policy restricting new schools to being academies or free schools. However, some local authorities have begun to expand their existing secondary schools, creating so called "titan schools", to cope with growing demand.
The government pointed out on Tuesday that 95% of parents in England had received an offer at one of their top three preferred secondary schools and 96.3% at primary, with almost 20,000 more secondary pupils getting their first choice place compared with 2010.
The pressure on secondary schools looks set to grow further however. While there were 548,006 applications for places this year, demand for primary places is still rising and this year went up to 641,572, a 0.8% increase on last year's figures.
At primary level more children are getting their first choice of school with 88.4% of parents receiving an offer for their top preference, up on last year's figure of 87.8%. However, in London again there was greater disappointment for parents, with 83.7% of applicants receiving an offer of a place at their first choice.
A Department for Education spokesperson said: "Delivering good quality school places is a top priority for this government and today's figures show that the system continues to work. The vast majority of pupils were offered a place at their first choice school and more than 95% received offers from one of their top three choices."
Responding to the figures, Labour's shadow secretary of state for education, Lucy Powell, said there were legitimate concerns about the impact of migration on the schools system.
She added, however, that fewer than 5% of new places needed were for children of EU migrants. The majority of the pressure on places is coming from a rising UK birth rate and she said the Conservatives' "free market approach" to providing new school places was not working.
"Children are being crammed into ever larger class sizes and many primary and secondary schools are at or over capacity. The provision of new places needs proper planning and co-ordination.
"Yet this government's fixation with free schools, which can be opened where there is no shortage of school places, has made it harder and harder to ensure there are enough good school places in every local area.
"It is time for ministers to give local areas adequate powers to plan for new places and remove the bureaucracy that councils face when it comes to opening and expanding schools," she added.
Roy Perry, the chairman of the Local Government Association's children and young people board, warned that more than 800,000 extra school places would be needed by 2024. "While councils have a statutory duty to ensure every child has a school place available to them, they find themselves in the difficult position of not being able to ensure schools, including academies, expand.
"Finding suitable sponsors with the capacity to take on the running of a successful new school is also proving a challenge. Councils are therefore calling for powers to either compel academies to expand to provide enough places, or to create new schools if they are unable to secure high quality free school sponsors in their communities."
Russell Hobby, the general secretary of the National Association of Head Teachers, expressed concern about the wide regional variations and said national figures did not reflect the reality in some communities.
"Under the government's education plans, local authorities will have the responsibility for ensuring adequate school places, but will have no real powers or funding to do so. It must look again at these plans," he said.