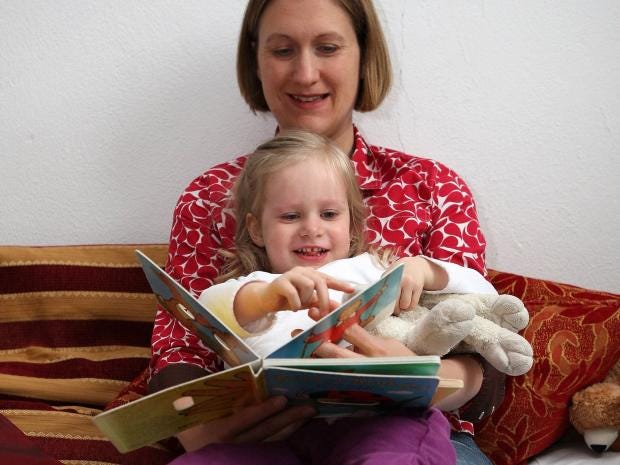 Too many parents are underestimating their children's ability to learn language, according to a report.
A poll of parents by charity Save the Children revealed nearly half of those polled (47 per cent) had low expectations of their children's ability to learn  reckoning they would know 100 words by their third birthday – just half the number recommended by the Government.
As a result, the children struggle to learn when they start school and could be behind in class throughout their school years.
Figures show there are 130,000 children struggling to learn, the equivalent of six children in every reception class for four-year-olds. The number is also the equivalent of all the five-year-olds in London, Manchester, Liverpool, Sheffield and Newcastle put together.
A briefing by 13 leading scientists from Oxford, Cambridge and University College London urges the Government to ensure at least one qualified teacher in every nursery class to maximise children's learning potential.
They point out that toddlers' brains are twice as active as adults and that they can form connections at twice the rate of grown-ups. In a joint statement, they argue that Government action is necessary, otherwise these children could be struggling for a decade.
"A child's pre-school years form a critical opportunity for the brain to develop key skills like speech and language," says their paper. "Our research shows failure to develop adequate language skills leaves children struggling to learn in the classroom."
Professor Torsten Baldeweg, professor of Neuroscience and Child Health at UCL, said: "Why is it important to stimulate children before they go to school?  It is precisely this period when we have explosive brain growth, where most of the connections in the rain are formed.
"We know that if these connections are not formed they, to variable degrees, will suffer longer term consequences to their physical, cognitive but also emotional development…. Much more must be done to boost children's early development."
Parents, though, do not recognise the importance of learning in the early years, Save the Children added. Its polling showed that 61 per cent of parents – and 68 per cent of fathers – felt that school was the most important period in a child's learning. In addition, 56 per cent of parents – and 65 per cent of fathers – felt they had not been given enough help and advice to understand the importance of their child"s early learning.
A combination of talking, word games and singing  can help play-time become brain-time, Save the Children added. Without enough support from home or in the nursery, children can fall behind.
Gareth Jenkins, director of UK Poverty for save the Children, said: "Toddlers' brains are like sponges, absorbing knowledge and making new connections faster than any other time in life.
"We've got to challenge the misconception that learning can wait for school as, if a child starts their first day at school behind, they tend to stay behind."
[Source:- Indipendent]