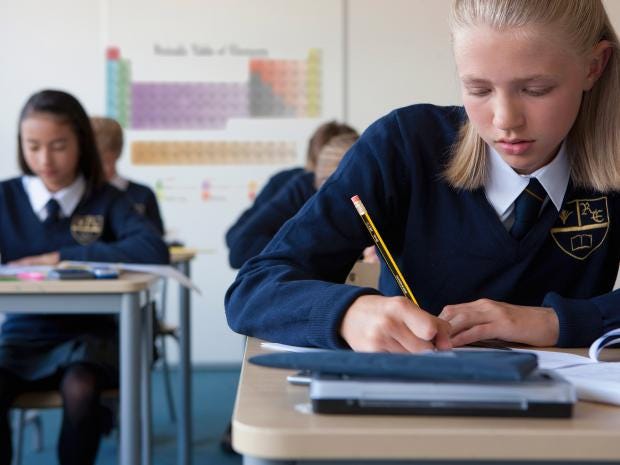 Brainy girls are keeping quiet in the classroom to avoid being labelled as "swotty", a teachers' leader has warned.
They fear that if they show themselves to be clever they will be seen as unattractive to the boys in their class.
Members of the Association of Teachers and Lecturers will draw attention to the growing prevalence of sexist bullying in schools when their conference opens in Liverpool next week.
"I think sexist bullying is the problem that doesn't get talked about," said Dr Mary Bousted, general secretary of ATL.
"There is a very fine line between if you're swotty and clever and you answer too many questions then you're not attractive to boys. There is a pressure to keep quiet.
"If you're a girl there are so many names you can be called. It's very hard for a girl to be brainy and feminine."
Dr Bousted also said there had been an increase in sexist bullying online, with research showing that girls as young as seven had become the victims of "sexting" on the internet.
"The victims of online abuse are overwhelmingly girls," she added.
The union will be urged to seek training for its members to "equip them with the necessary skills to prevent and curtail such behaviour".
It is also being urged to publish a definition of sexist bullying for its members complete with examples to help them combat it.
Some girls were being put off studying core academic subject after GCSEs for fear of being labelled brainy, the union added.
"I think schools are doing what they can," said Dr Bousted. "They are often the safest places for young girls to be but they are also chock-full of people who bring the (offensive and sexist) names which are used outside school.
"Adolescents today have more access to highly sexualised films and content on social media than ever before. It would be surprising if it didn't play out in schools
"This is not something particular to schools. Schools have to promote equality but schools can't tackle this on their own. It is one for society. I think all pupils should be taught how to speak up."
Dr  Bousted was critical of the fact that speaking and listening skills had been downgraded from the English GCSE exam, with marks no longer counting towards the final grade.
[Source:- Indipendent]