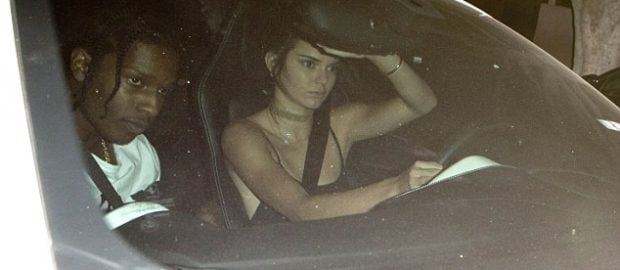 Her romance with rapper A$AP Rocky has been labelled 'the real deal'.
And Kendall Jenner, 20, and her new beau enjoyed a nighttime cruise around West Hollywood in the 27-year-old's extravagant white Ferrari on Wednesday.
The model looked comfortable behind the wheel of the powerful motor wearing a lightweight black vest top, a golden choker and denim hotpants.
Scroll down for video
Meanwhile, A$AP was casually dressed in a white tee and black trousers, his hair styled in tight braids.
The insider claimed that Kendall and A$AP (real name Rakim Mayers) have bonded over their mutual love of fashion.
'They're both major players,' the publication's source said. 'They have lots to talk about!'
The Keeping Up With The Kardashians star and the L$D hit-maker have been spotted spending lots of time together over the past few weeks.
Supercar: The Ferrari's sleek design really was a thing of beauty
In the driving seat: The leggy model looked comfortable behind the wheel of the powerful motor wearing a lightweight black vest top, a golden choker and denim hotpants
Hands up: It has been claimed that Kendall and A$AP (real name Rakim Mayers) have bonded over their mutual love of fashion
[Source: Daily Mail]