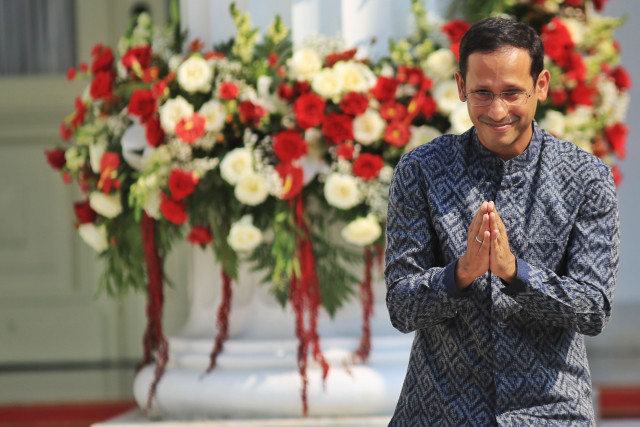 The appointment of Gojek founder Nadiem Makarim as the new education and culture minister has been met with mixed public opinion, with a number of people using memes relating his new office to the app-based business. While others have expressed their support, some others have questioned his ability to address various problematic issues in the ministry.
President Jokowi said Nadiem, a Harvard Business School graduate, was expected to improve the country's human resources. "Nadiem Anwar Makarim as education and culture minister will invent a number of breakthroughs to create ready-to-work human resources," Jokowi said, while introducing his second term Cabinet at the State Palace on Wednesday.
Jokowi stated during his inauguration that human development would be a major priority of his administration as it would help the nation reach its full potential.
"Our dream is that by 2045, Insya Allah [God willing], Indonesia will have escaped the middle-income trap. Indonesia will become an advanced country with an annual income of Rp 320 million [US$22,752] per capita or a monthly income of Rp 27 million per capita," said the President.
Nadiem,35, launched ride-hailing app Gojek in 2015 as a "solution" to the country's messy transportation system.
Nine years into operation, the country's first decacorn has been used by more than 155 million users in five Southeast Asia countries, including Cambodia, Malaysia and Myanmar. It employs more than 2 million drivers.
Despite his achievement, many still doubt Nadiem's capability to handle mounting problems in the education system.
Indonesian Teacher Association chairman M. Ramli Ragim said there was no guarantee that Nadiem, a young person who has reaped big achievements in the transportation sector, would be able to manage "our woeful education system."
He further mentioned the issue of nonpermanent teachers with no salary and pension certainty.
"There's a shortage of civil servant teachers at state schools. The shortage reaches 1.14 million teachers," Ramli said, projecting that numerous elementary and secondary schools in Indonesia would face challenges if the low-paid nonpermanent teachers opted to stop teaching.
Many people did not see Nadiem's appointment as education and culture Minister coming, with some calling it a "plot twist". They, however, were optimistic that Nadiem would make positive changes.
["source=thejakartapost"]