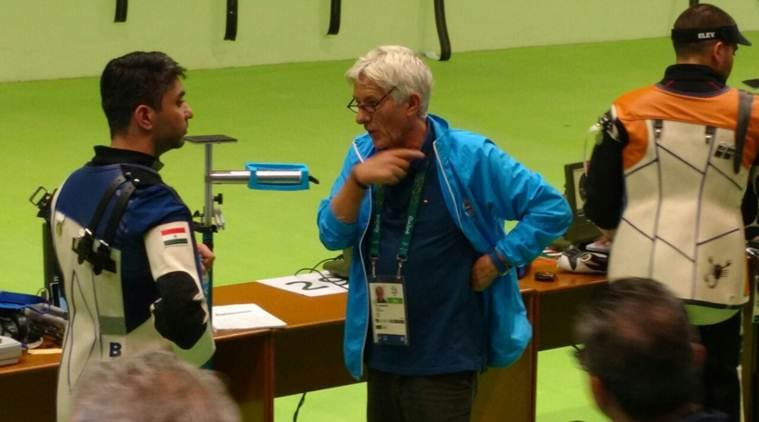 IT was the young and earnest Abhinav Bindra's persistence, no doubt, that convinced his German coach Heinz Reinkemeier to start working with the shooting prodigy 16 years ago. A dozen new kids approach the reputed coach, tactician and psychoanalyst every month in Germany, sport shooting's ultimate hub, so he wasn't surprised when Bindra and his father approached him to train the promising boy. But it was one of the most abrasive, xenophobic and cynical moments in Germany's post-War history, that serendipitously led to Reinkemeier deciding that he would take on the challenge of guiding the then teenaged Abhinav.
It led to the gold medal in Beijing in 2008, and now culminates in India's flag-bearer at Rio gunning for a second medal, this August 8, with Reinkemeier sturdily still by his side.
The man who came up with the revolting slogan that Reinkemeier detested at first sight, was called Jürgen Rüttgers. It was around the time that a young Bindra had walked up to Reinkemeier at Munich asking to be mentored, though the German wasn't sure it was the brightest of ideas: an Indian kid at rifle shooting, though promising and eager, just seemed too much of a long shot.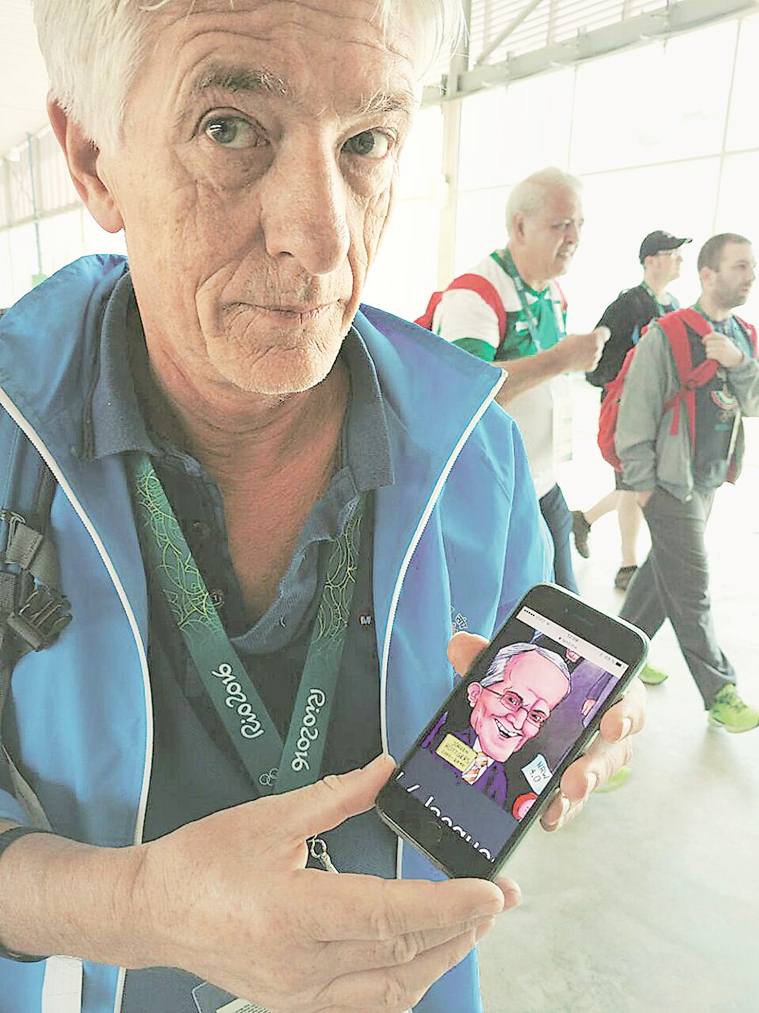 Abhinav Bindra's coach showing the cartoon of that right wing politician on his phone.
The thought stayed with him though, when one day he was bombarded by obnoxious slogans in his home state North Rhine-Westphalia (NRW) which picked on highly qualified Indian professionals, though the target hate-group was any white collar immigrant. Rüttgers had come up with "Kinder statt Inder (Children instead of Indians)", which when interpreted extended to: "Statt Inder an die Computer müssen unsere Kinder an die Computer (Our children must work on computers, instead of Indians in front of computers)".
"He was a conservative politician and his message meant — we Germans better have our own children rather than bringing people from India to carry out the high-qualified jobs. I heard that and said, 'Now, no matter what happens, we will work with this kid'," Reinkemeier recalls, the rage he felt back then still burning in his eyes as he spoke of the circumstances that led to their collaboration that has moulded India's finest Olympics career.

"To be honest, when his father met me and told me to make his son a world champion, I thought it was impossible. Sitting in Germany back then, when India wasn't quite a strong shooting force, it seemed unlikely. But then I heard it and I decided I had to train this Indian boy," he says.
It had been a coincidence that Bindra had sought guidance around the same time that Rüttgers had started spitting his abominable views on immigration, while Germany was debating liberalising migrant rules to attract more qualified foreigners into its high-end workforce. The rabble-rousing Christian Democratic Union leader, still in Opposition then, was emerging as frontrunner for the next elections, and Reinkemeier remembers rejecting the polemic outright. "It started with some great vibes and we've worked together for so long that now sometimes an eyebrow explains everything," he said at Rio's Deodoro Ranges on the eve of the Games.
The celebrated coach brings tremendous insight into Bindra's methodical preparation for what he's declared will be his final Olympics at 33. But Reinkemeier is also the voice in Bindra's head as he attempts to pick a second medal.
Rio, Reinkemeier says, is an identical copy range of Sydney — Abhinav Bindra's first-ever Games as an 18-year-old. "Of course, there are specific colours and LED lights now, but the building structure's exactly like 2000," he adds. But it's not just the checklist — the sensory triggering, rifle stability, body balance, approaching target, and finding the centre of it after holding stable for 5-6 seconds — that defines his journey with his celebrated shooter.
He remembers how the two started out. "It was a juniors event and I was smoking at the shooting range, and he came and asked if he could train with me. Next thing I knew after I walked inside was that he was in the final and my boys weren't!"
Reinkemeier is a big believer in Zen. "For the shooter, it might be about winning or losing, for me, it's important to deal with the personality. We don't make drama of big or small days. We recognise others are as good as we are and we're one of 50-60 and everyone's a genius here."
Ask him how much Bindra has changed over the years, and Reinkemeier says, "He started at 16-17 so it was an adventure. For one, he's twice as old now."The battle-hardened mentor, whose been coaching for over 35 years now, would say that the journey was almost sentimental. Almost. "It's been great. But no, not sentimental. I'm not old enough to get sentimental, and I don't have the time." There's been a few tough training sessions but he says there was never any shouting or scolding. "You can't train even a horse by scolding or get your wife to listen to you by screaming! Why will it help train my shooters!" he says, laughing.
There's a fair bit of philosophy he's dipped into while training Bindra, a lot of Buddhism and its key approaches — feeling, love, sacrifice, even austere living. And of course, the science, as Bindra surrounded himself with the best brains from shooting's prime nation of gun-makers and gun-wielders and gun-thinkers.
Reinkemeier, though, knew he'd made the right choice of training the Indian boy after an incident proved Bindra to be unfailingly polite. "It was still early days for him in Germany and we went out to my favourite Italian because I knew Indians like spicy food. I told the kitchen staff, and they served an Arrabiata that had clearly gone overboard on chilly and spice. The whole kitchen staff peeped out to see his reaction, and he was clearly finding it spicy so much that tears started streaming down his eyes. I calmly asked him, 'Are we spicy enough?' He said 'Not bad'. Incredibly polite."
In the next 15 years, Jürgen Rüttgers lost the next election, Abhinav Bindra won Olympic gold and Heinz Reinkemeier is on the verge of admitting that as the journey draws to a close, he feels "sentimental".
[Source:- The Indian Express]