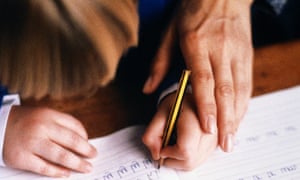 In the first four years of Emma's life, her parents had to deal with a diagnosis of autism and then leukaemia, but the most difficult challenge they faced was the battle with their local authority for special educational support, which saw them pitted against a specialist law firm. Their experience was long-drawn-out and bitter and, although they won, they were left feeling incredulous and angry that the process had been so adversarial.
Fury as law firm boasts of 'great win' over parents of vulnerable children
Read more
"It was astonishingly hurtful – particularly the level of aggression from Baker Small [representing the local authority]," says Emma's mother (who asked not to be named, and for her daughter's name to be changed, to protect her anonymity). "They forgot there was a little girl at the centre of this."
Baker Small has been in the news for the past week after its director, Mark Small, apologised for his firm sending a series of tweets gloating at a tribunal victory over a family trying to get special educational needs (SEN) support for their autistic child.
One of the tweets said: "Crikey, had a great 'win' last week which sent some parents into a storm! It is always a great win when the other side thinks they won!" Another said: "Whenever someone thinks they have won and they have conceded 90% of their case, it does make me smile." Responding to widespread online condemnation of the tone, the Baker Small Twitter account later posted a picture of a kitten laughing.
Small subsequently expressed profound regret over the posts, which have been deleted (although they are still visible on several disability blogs), and he has made a donation to a children's hospice as a gesture of remorse. At least eight local authorities severed ties with the firm in the days that followed, or said that they would not be giving them any new work. Until last week, the company had contracts worth up to £1m with about 20 councils.
The saga has quickly become a case study in the capacity of social media to empower otherwise voiceless and isolated people, and simultaneously in the capacity of a few ill-judged, Ratneresque tweets, to undermine a flourishing business. At the time of writing, the company's website is down, and online reviews of the business are pithy: "Simply inhumane – laughing at parents of disabled children."
As well as representing councils at court, Small's firm was also contracted by many local authorities to train staff in how to manage demands for educational support. In a now-deleted page, its website advertised Small's expertise at helping local authorities cut costs, highlighting his skills at "terminating" support programmes, leading him to be known by some disability support groups as "the Terminator".
The tone of the tweets was familiar to SEN lawyers and parents who have come up against Mark Small at tribunals, as they fought for educational support or a place at the right special needs school for their children.
"He had the very unfortunate attitude of viewing parents of children with disabilities with disdain," says Beverley Watkins, partner at Bristol-based Watkins Solicitors, which specialises in SEN law. She has represented parents in several cases against Baker Small, and wasn't surprised by the messages. "He didn't have any compassion for the very, very difficult lives that many parents of disabled children have."
The Guardian has been contacted by numerous parents who have had bruising experiences with Baker Small, and has spoken to nine. Some of them have lost their cases, and may understandably feel negatively towards the law firm that, following instruction from local authorities, helped to deny them support, but others who won their cases feel equally shaken. Several describe a pattern of unhelpful behaviour – delaying presenting evidence until the last moment, or after a deadline has passed; refusing to concede anything until minutes before the tribunal was due to start – pushing up parents' costs, and exhausting their energy to continue fighting. All highlight the injustice of confronting a ferocious, tax-payer-funded firm, intent on denying them support for their child.
But the outrage prompted by Small's posts has shone a light on a more profound problem with the national system that decides how to allocate scant resources to children with SEN. Because local authorities have faced budgetary cuts of up to 40% over the past six years, they are anxious to control spending in this area and many have been happy to sign up the services of Baker Small in an apparent attempt to reduce their costs.
Some parents say it was disingenuous of the councils to sack the firm so swiftly after the online storm, given that they had benefited from its services for years. The tweets scandal has simply brought a very troubled process into the open.
Julie Moktadir, chief executive of Independent Parental Special Education Advice (Ipsea), a charity offering advice to parents of children with disabilities on how to get the right education, says local authorities often "placed barriers" because of financial constraints. The Local Government Authority (LGA) admits demand for support was increasing at a time when budgets were shrinking, and has criticised the Department for Education for underfunding the sector. "Councils are having to make some very difficult decisions as a result," says councillor Roy Perry, chairman of the LGA's Children and Young People Board.
Emma's mother says Baker Small appeared to be very effective at making the process as difficult as possible for parents, but she felt the firm was ultimately just a cog in the system, the "hitman", paid to help the council to do what it could to limit its responsibilities. The firm, acting for her local authority, Richmond-on-Thames, was so aggressive in its quest for Emma's medical records that doctors at Great Ormond Street children's hospital became concerned and, during a hearing, a tribunal judge had to request the company desist from bothering medical staff there. While delaying tactics were employed by the local authority and the law firm, Emma's mother watched her daughter struggling without support. Parents know that early intervention after a diagnosis of autism is important, and feel dismay as the months pass.
"These people are actually supposed to be looking at the individual child's needs," she says. "They did none of that – it felt like it was: 'How can we get out of doing anything at all, by whatever means possible?' They delay assessments; when they have done the assessment, they will write a statement that doesn't bear any relation to the child. You can end up wasting a year of a child's life. Sure, it saves money in the short term, but the child will be a bigger cost for ever if it doesn't get support." In the end, the council settled just before the tribunal was due to begin and she won the support she knew was right for her child, but only after the family had endured months of extra stress and wasted thousands of pounds in legal fees. Richmond-on-Thames said it was not able to comment on individual cases, but added that it would not be using the firm again.
Christine Price met Mark Small in tribunal twice, in 2008 and 2013, when she was fighting the council to get the right support for her son, Simon, now 19, who has autism and was not coping in mainstream school. She says she found Small intimidating, and the process of being up against a law firm, without legal support herself, was very difficult. She had no money for a lawyer, and legal aid is no longer available, so (with the support of Ipsea) she gathered huge amounts of medical evidence herself. She is one of just two parents prepared to give their names; the rest say they feel effectively gagged because they are scared that if they speak openly about their fight with the council, it could impact on their ongoing need for support.
Price was particularly frustrated by a two-year wait for a tribunal. "I was at home with [my son], with no funding for home education and no school," she says. In the end, a tribunal judge ruled in the family's favour, and her son is now doing well in an agricultural college. "There is no understanding of how hard it is for parents," she says.
The father of an eight-year-old, who in April lost his fight against Buckinghamshire to get his son, who has autism, into the specialist school they felt was most suitable, says he and his wife, both well-educated and confident people, had been intimidated by Small's aggressive questioning at the tribunal. "We were cowed by his closing statement. This is his professional arena, but we had no legal support," he says. "His attitude to us was adversarial and combative to win a case that took our son away from an educational provision that we believe would have allowed him to flourish and be happy."
He thinks he might have won the case if he had paid for legal representation. "The Kafkaesque nature of the situation is that he [Small] was being paid for by the taxpayer; if we had chosen to employ a legal adviser, we would have won, I believe, but it would have cost around £25,000. We would have been in the absurd situation of paying for prosecution and defence. There is a national disgrace here. It is not about the cost of educating these children; it is about the cost if we don't."
A father who was faced with Baker Small at tribunal earlier this month, as he sought specialist support for his autistic son and lost, was particularly dismayed by the gloating tweets over a "great win", concerned that they referred to his son's case. (Small indicated later that he had been referring to another case.)
His family were informed last Wednesday that they had lost their tribunal appeal against Hertfordshire county council, which was represented by Baker Small. As a result their eight-year-old son will no longer receive funding for Applied Behavioural Analysis (ABA), a specialist autism support intervention.
"We were outraged and disgusted," says the father, who asked not to be named to protect the identity of his son. "We found it incredible that a law firm could be bragging about the fact that they had taken away provision from a child." His son was diagnosed with autism at three, and has been receiving ABA support since then, which his parents believe has helped him to remain in mainstream education. "He is fully verbal now, and doing quite well; he wouldn't have been able to do this without the support," the father says. The tribunal decision removed the ABA funding, but conceded that the child needed one-to-one learning support in the classroom.Many parents say they were made to feel as though they were trying to hoodwink the local authority, that they were claiming their child was more disabled than they were, exaggerating their child's needs. In an earlier tweet from last year, Small said parents demanded "everything but the Ferrari". Sue Leach says her fight against Baker Small at tribunal on behalf of her nine-year-old had been a "brutalising experience" and she found the process very "gladiatorial". "It was hell," she says, adding that it had cost her £50,000 and made it impossible for her to work while she prepared for the case. She suspects that the firm delayed and postponed hearings in the hope that the family would back down, before settling, with the local authority agreeing to fund the place at the appropriate special needs school minutes before the tribunal was due to begin.
"You have to remember that families like ours are at rock bottom, coping with children who are really, really stressful to parent. We're all already on our knees when we get to tribunal," she says.
Another mother, of an eight-year-old boy with autism, was dismayed when Baker Small tweeted details of her case, as she battled with the local authority to conduct a formal assessment as a precursor to determining what educational support was needed. She complained to the Solicitors Regulation Authority (SRA), which decided there were no grounds for a complaint. The tribunal process pushed her family so far into debt that they are considering remortgaging the house.
"The needs of the child are completely lost. If you pay lawyers, your chance of success is much higher, which means only wealthy people can afford to get special educational care for their child. It is so disgusting," she says, also asking for her name to be withheld.
A number of families have this week contacted the SRA to make retrospective complaints at the treatment they faced at the hands of Baker Small, and the body says it is considering whether or not there is enough evidence to launch an investigation. Sharon Hodgson, the shadow children's minister, has also written to the SRA asking it to "seriously consider" the complaints.
The mother of another eight-year-old with severe dyslexia, who won a tribunal against her local authority (which was represented by Baker Small) to secure a place in a specialist dyslexia school, says she was utterly shocked by the viciousness of the experience. "Personal accusations were thrown at both me and my husband," she says. "I felt brutalised and traumatised by the entire experience." Her son is now thriving at the school where he gets the support he needed.
Mark Lever, chief executive of the National Autistic Society, says: "It is very worrying that local councils seem to be spending so much time and money fighting parents who are trying to secure the support their children need."
Parents say the experience piled on extra stress; 47% of parents of disabled children have been to see their GP due to stress anyway, with 62% then being prescribed medication, according to the disability charity Scope. On a Mumsnet thread, one parent wrote that the process of going to tribunal was profoundly stressful, adding: "I ended up spending time in a psych ward after ours, which was in part due to the stress of having to deal with hostile LA representatives." (It's worth noting that one parent on the same thread said that she had received useful advice on the phone from Mark Small when she contacted him, and described him as "great". "He was kind and caring and spent a lot of time with me – for no charge. I am stunned it is the same man," she wrote.)
When contacted last week, Small said he deeply regretted his comments. He said he sent the tweets after a "red mist" descended on him when he received a strongly worded email abusing him for the work he did. "It's not an excuse. I receive emails all the time from parents who are not very happy," he said. "On this occasion it resulted in me sending some stupid tweets.
He argued that the system he operated in was very flawed, describing it as "a nasty little system, the SEN system". He said: "The image that we presented of the company … that I presented with my tweeting, is suggestive of a firm that is looking to run roughshod over families, and that isn't the case. It is part of a wider problem with the sector," he said, adding that his firm has never been reprimanded by the SRA. "I'm certainly not saying that these are nice hearings, and I am sure that they are not good for anybody because they can result in very adversarial proceedings."
He did not respond to requests for comments on the detailed allegations made by parents who had faced his firm.
A Department for Education spokesperson says: "Our reforms to the Special Educational Needs and Disabilities (SEND) support system are specifically designed to put families and children at its centre, and make it less adversarial. We are reviewing the system of disagreement resolution, which includes mediation and tribunals, to make sure that it works effectively for parents and carers."
Adrian Loades, executive director for children, families and adults at Cambridgeshire county council, acknowledged that Baker Small had been used previously because of tension between demand for services and the "finite nature of budgets". Cambridgeshire was the first council to announce it was dropping the firm after the "unacceptable" tweets.
"We strive to avoid an adversarial relationship with parents, but there are times when an agreed view of how a child's needs should be resourced and met cannot be reached … We accept that there are times when it is difficult to reconcile the tribunal process with the desire to work constructively with parents. This is what we seek to do even if we are not always successful," he said.
One father of a disabled child, with considerable experience of going to tribunal, says that unless the system is reformed, a new firm will emerge to scoop up the work. "Most of these local authorities say they're shocked – shocked, like Captain Renault in Casablanca – to find a contemptuous attitude to parents present at Baker Small. But SEN is a small world, and Baker Small's modus operandi is very well known. For the local authorities that purchased their services, Baker Small's approach with parents won't have been a surprise. For the worst LAs, it will have been an acceptable and desirable part of the package," he says. "Baker Small is the target of many for now, but the local authority culture that creates demand for their services is the real problem. Unless it's addressed, we'll simply see another Baker Small pop up a few months down the line."