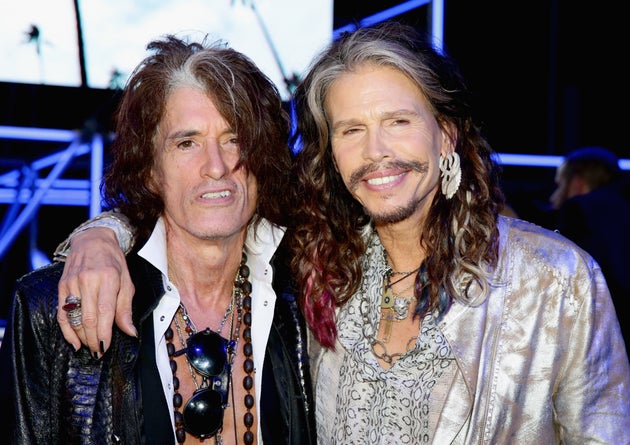 Days after Joe Perry collapsed while performing in Brooklyn, Aerosmith bandmate Steven Tyler is "really concerned" that he hasn't received any word from Perry's camp about his health.
"It's starting to scare me a little bit," Tyler said in an interview with Billboard. "I know they're putting out nothing, but he's recovering, he's really good, he fainted, exhaustion. But I know my brother. He's just about the only other guy that's as passionate about his art as I am."
Perry was playing with the Hollywood Vampires (a rock group he formed with Johnny Depp and Alice Cooper) when he collapsed on July 10. He was later taken to the hospital. That night, Cooper tweeted that Perry was "stable right now, with family & is under the best care." Apparently, that wasn't enough information to put Tyler at ease.
"I don't give a s**t about the band. I want Joe to live," the Aerosmith frontman said. "I'm really concerned and worried right now that I'm not getting any news. I'm a little bummed out, and that scares me. I don't know whether it's heat prostration or whether he's been working himself too hard or getting off on wrong things passionately."
Though Perry's camp has yet to issue an updated statement about the rocker's health, a representative for the Hollywood Vampires told People on July 11, "Joe Perry will rejoin his fellow Vampires on stage again soon."
To read the rest of Tyler's interview with Billboard, head here.
[Source:- Huffington Post]