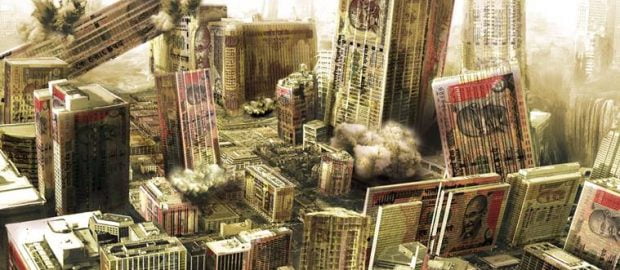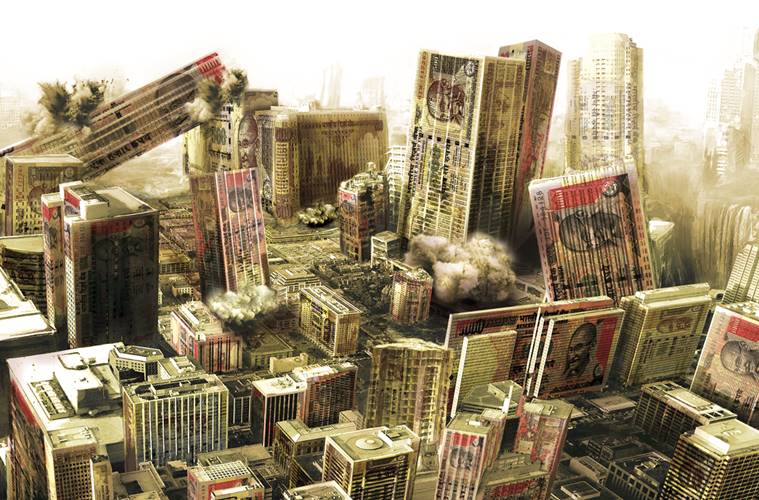 ON the Monday after Diwali, the last transaction a realtor oversaw in Mumbai was the re-sale of a two-bedroom home, with a carpet spread of 700 square feet. The apartment, in a 30-year-old high-rise, went for Rs 3.80 crore, roughly the market price in the south-central Mumbai belt. The price of the asset was calculated at 47 per cent below the ready-reckoner rate and fixed at Rs 1.80 crore. The rest, Rs 2 crore, was paid in cash. This "adjustment", realtors say, is not an anomaly; it is the practice, the usual method to break the cash and cheque components in a re-sale.
We may never know how the seller has been coping since Tuesday midnight, when the government's decision to demonetise
Rs 500 and Rs 1,000 currency notes took the cash out of his wads, but realtors believe that the move will shake up the sector over the next 12-18 months and shape it up in the long term.
While a 2012 white paper on 'black money' by the Finance Ministry stated that the real-estate sector in India constitutes almost 11 per cent of the GDP, a recent report by Ambit Capital said India's 'black economy' stands at over Rs 30 lakh crore or about 20 per cent of the total GDP. If the ministry's 2012 assessment holds true today, then real-estate accounts for more than 50 per cent of the current black money market. Which is why, real-estate developers and experts say, the recent demonetisation leaves the industry at the crossroads. Where it goes from here on, they say, is anybody's guess.
For the real-estate sector, while the pulse still remains the primary market that involves deals between the developer and the buyer, it's the cash-rich-investor-driven secondary market involving re-sales that sets the rules.
"The impact is likely to be seen in secondary markets for all asset classes, thereby making real estate more illiquid for some time," says Anshul Jain, MD (India) of Cushman & Wakefield, a leading real-estate services company.
"This decision will have a significant impact on the real-estate industry," says Pravin Bavadiya, CMD of City Estate Management, a leading real-estate broker in Ahmedabad. For the last few days, since the demonetisation announcement, Bavadiya has been sitting in his posh office on Gurukul Road, fielding calls from people who seek his advice on where to park their cash — devalued notes of Rs 500 and Rs 1,000. "Most of these land deals are now likely to be cancelled or renegotiated. People have been asking me if they can make a back-dated real-estate booking or if they can exchange gold for property," says Bavadiya, adding, "In Ahmedabad, only 20 per cent of developers accept cheques for 100 per cent of the value of the property. However, the cash component is higher for commercial real-estate dealings."
A report released on Thursday by credit rating agency Fitch points out that the government's move will have a negative impact on home-builders over the next 12-24 months. "We expect residential property prices and property sales to fall, as consumers attempt to work out how best to declare their wealth. The negative impact is likely to be more pronounced on sales of higher-end, premium property, which is targeted by high-net-worth individuals and investors, rather than entry-level housing targeted by first-time home-buyers," says the Fitch report.
For now, at least in public, developers have been putting up a brave face, calling the demonetisation exercise a "fantastic move" and even going on to say that "liquidity will improve".
"It will lead to some amount of correction in real-estate prices in markets where substantial speculative investments have been made by individuals through black money," says Jain of Cushman & Wakefield.
Vicky Nagrani, a partner in Rock Realty, a two-decade-old realty firm in Pune, believes the move will increase the availability of cash in the market. "The long-term effect of this will definitely be good. Prices, we think, will remain realistic," he says. Rough estimates show that for a city like Pune, around 30-35 per cent of the real-estate business involves cash.
Developers say their phones have stopped ringing since the recent announcement — a sign that all's not well.
Prashant Vedprakash Pandey, who owns Dream House Properties and Real Estate in Mumbai, says, "A deal may or may not take place. But enquiries are important. They make up our actual bread and butter. That is how realty mornings begin."
Pandey, who deals in rentals between South Mumbai and Dadar and has some 'A-Listers' in his client base, says property rates had hardened in the last few years and sales were low. The base rate for a Cuffe Parade flat today is Rs 6 crore, "without parking", he says. "I could seal only one deal in recent days, and that should say how tough the market is."
Last year, the Associated Chambers of Commerce and Industry of India (ASSOCHAM) released a report that said that over 75 per cent of the 3,540 real-estate projects, with investments worth over Rs 14 lakh crore, across the country are non-starters. The study also revealed that in Punjab, a majority of real-estate projects were delayed by more than 36-40 months on an average. The situation was similar in Haryana, with a large number of real-estate projects in Delhi's National Capital region (NCR) non-starters.
With no cash left for at least an interim period, realtors such as Pandey expect this already sluggish secondary market to slow down further.
In an actual end-user purchase, where the buyer is selling an old property to upgrade to new, the cash component is more. For instance, they would sell their space in south Mumbai to buy a larger space in Lower Parel, Andheri, or even in other states. Analysts predict that the demonetisation exercise will see such purchases taking a hit, for at least a year or two.
Since January 16, 1978, the last time the Indian government demonetised Rs 500,
Rs 1,000 and Rs 10,000 currency notes to curb black money, the real-estate sector has undergone drastic changes. Inflation and standard of living aside, the realty boom has grown unevenly. It's probably the only sector which sees hard cash taking the weight of high skyscrapers.
Realtors say that from the early 1990s up to 2004, the price escalation in the sector was only up to 5 per cent. The Congress government's decision to release blocks above 4,000 square metres under the Urban Land Ceiling Act, coupled with foreign investments and tax holidays, changed things.
This growth also set the scene for blackmarketing. Investors "who never planned to live" in these houses purchased in bulk. Between 2008 and 2011, even with inflation going up, blocks of apartments in under-construction properties exchanged hands and hard cash.
Analysts say many of these transactions were shown as moveable properties to avoid capital gains tax. "Against let's say a sale of 100 shares, the profit proceeds can be put in the real-estate sector to avoid tax. This was where the cash component also played out," says a Mulund-based investor.
Many of these properties, even after having changed hands several times, maintained no registration records.
Unrealistic land prices added to the problem. Speaking about a project he was associated with, a Worli-based real-estate agent says, "This developer in South Mumbai purchased land in 2002 for an FSI (floor space index) rate of Rs 2,200 per square feet. Today, a flat in the project – it has a French name – costs Rs 93,000 per square feet. Recently, a three-bedroom, 2,900-square-foot flat there was sold for Rs 27 crore. Such a big amount will never come in white."
Explaining the mechanism of black money transactions in the real-estate sector, Vikram Wadhwa, a real-estate consultant in Chandigarh, says, "Property prices inflate when dealers book a property and then sell it at a higher price. For instance, the government notified rate of a 1 kanal house is Rs 3.25 crore. But it is sold in the market for Rs 6 crore. It's the buyer who pays this margin in cash. The current demonetisation will make it extremely difficult for any buyer to pay in cash. The seller will also not accept such money. This will automatically bring down property prices."
A new trend that has picked up over the last year is "exhibition sale", says a small-time developer. "It used to happen in smaller markets, but has picked pace in prime markets too. Builders would make block purchases from other builders and everyone would be happy. The first builder would get cash and the second builder would make a profit by selling the property during completion. In records, it was shown as a temporary loan, without interest, between the two builders and the loser in this was only the second-sale purchaser if he turned out to be an actual end user. The cash component here was huge too," says a developer.
A research paper on real estate by Kotak Institutional Equities — released on Wednesday — starts with a warning, "Only individuals with large sums of unaccounted cash will be affected by the government's move. In real estate, we believe most of the cash is used in land transactions (by entities or individuals) and sellers potentially hold un-explainable sums. Post the Income Declaration Scheme 2016, and the recent government doctrine, we believe it could be difficult for them to adjust such huge sums of cash." However, it adds that with secondary market showing some correction, and with private equity encouraging governance and transparency, the primary market could see a correction.
The report shows Delhi's NCR and the Mumbai Metropolitan Regions could be worst affected as opposed to markets in Bangalore, Pune, Chennai and Hyderabad since Delhi and Mumbai have a higher proportion of investors.
Yashwant Dalal, President, Estate Agents Association of India, believes the recent demonetisation has "only brought the spotlight back" on an industry that was already slowing down. "The Real Estate Regulatory Act (which aims to protect the interests of buyers and which was passed by Parliament in March), is anyway going to wipe out small builders. The money that was rotating had slowed and with this demonetisation, things will only slow down further. At least 30 to 40 per cent of the prices are expected to fall in the coming days. In the long term, some correction should happen," he says, before adding, "Real-estate market works on unwritten rules. It's like the film industry. There is no logic here."
[Source:-The Indian express]