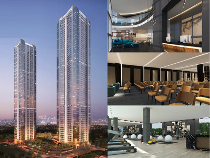 The Union Budget 2017 has proposed several positive measures to strengthen the edifice of the Indian real estate sector For instance; the facilitation of capital gains taxation norms has triggered a wave of happiness in realtors and property buyers alike. Given below are few key measures that will provide the much-needed thrust.
– The tax period for capital gains has been reduced to two years from three years. This means that lesser capital gain tax will be in the offing for those intending to sell their property after a span of two years of purchase, as against three years (earlier).
– The nominal tax on ready but unsold inventory is to be charged after one year. This means that the person holding the land in a given real estate project will have to pay 'tax on gains' once the entire project is completed and not before that. Earlier, the price of the land was evaluated by the owner at the time of entering into a contractual agreement with a builder; and the taxable amount on the notional gains had to be paid on the assessed price at that point only. As the tax payment will be deferred, more land owners will be encouraged to tie up with developers and realtors. This will propel the supply of properties in the positive direction, further benefiting buyers.
It Starts with the Buyer
An understanding of urban real estate buyers reveals a streak of skepticism with regards to under-construction projects and developers. For prospective buyers to turn into new property owners, all client objectives have to be optimized to the hilt. In a way, this explains why branded/corporate developers tie with established players for making it big in the Indian real estate market space. Bombay Realty, parented by Wadia Group, is no different. This niche real estate brand, with numerous construction milestones to its credit, has been nurtured along with Bombay Dyeing, Britannia and Go Air by Wadia Group. Ever since its inception, the real estate brand has etched one success story after another.
280 Years of Legacy, the Journey Continues
Bombay Realty – the name that breeds trust, reliability and innovation – constitutes an inherent part of the Wadia multi-business conglomerate. A reputed name in the real estate sector in India, it enjoys a 280 years old history of unrivaled success. Dedicated to attaining excellence in new generation spaces, global standards and lifestyles, the Company redefines living spaces and leisure experiences in every conceivable way.
Defining Luxury with Spacious Life Spaces
In the competitive scenario that Mumbai's real estate sector finds itself in today, its skyline is being transformed dramatically by two iconic projects attributed to Bombay Realty – The Island City Center (ICC) located at Dadar and The Wadia International Center (WIC) at Worli. These two developments are laying the foundation stone for world-class residences, serviced apartments, branded residences, office spaces, hotels, and retail stores like no other. Because of an underlying spirit of entrepreneurship and the brilliance of Wadia Group's heritage, these projects are set to become coveted landmarks in future.
The Address for Evolved Lifestyle in South Mumbai
When buyers invest in Island City Center ( ICC ), they choose to park their money in exquisite accommodation that defines prestige, spaciousness and world class infrastructure. This much-sought after address comprises of luxury residences with impressively large carpet areas. Sprawling across 29 acres of lush, undisputed land in Dadar, work is in progress at this project that promises to make living in Mumbai all the more attractive for its owners. Island City Center (ICC) has a vast expanse of open greens (about 14 acres to be precise) surrounding the vicinity of its exemplary construction.
This haven for new property mongers is nothing short of magnificence with its complete structure. Boasting of gated community and privately managed thoroughfares, the gargantuan instance of modern architecture finds a place of pride in the heart of Mumbai. ICC is well-connected to each part of the metropolis. Super specialty hospitals, the most prestigious schools, plush malls, entertainment centres and commercial hubs are just a stone's throw away. With unparalleled security in the offing, both ..
Construction at ONE ICC and TWO ICC is in full swing and is expected to meet project completion timeline.
– This sanctuary of serenity places emphasis on security and relaxation; thus, the project is in the reckoning for buyers looking for the dream home they have long wished for.
– ICC's benchmarked, in-class 3 and 4 BHK apartments – nestled in the heart of South Mumbai's largest residential development – are attracting buyers with modern amenities and appealing aesthetics.
..
n a few words, Island City Center presents a personality of its own – one that is unbeatable and unique.
Location / Size advantages of the Luxury Habitat
Buyers planning to invest in plush apartments in Mumbai are gravitating towards this luxurious residential condominium for many reasons; some of which include:
All Roads Leading to Island City Center in 2017
– Construction at ONE ICC and TWO ICC is in full swing and is expected to meet project completion timeline.
– This sanctuary of serenity places emphasis on security and relaxation; thus, the project is in the reckoning for buyers looking for the dream home they have long wished for.
rofessionally Managed Construction @ Bombay Realty
• Our International Projects Consultant: HILL International
• Pre-construction consulting as well as investor guidance for delivering the best possible solutions for buyers' vision.
• Advanced Jumpform construction methods aided by L&T's best technology for constructing different levels of ICC in faster, safer, and better ways.
• Involvement of professionally trained and experienced arc ..
About Island City Center
With 3 & 4 BHK luxury residences credited with large-sized carpet areas in classy high rise towers, the proposed integrated enclave by Bombay Realty defines new standards in premium living. Here, open green space of 6 acres is beautifully complemented by additional 8 acres (approx.) of landscaped area adjoining the project. The serviced apartments at this complex are destined to become dream homes for many.
It goes without s ..
[Source:-ET]