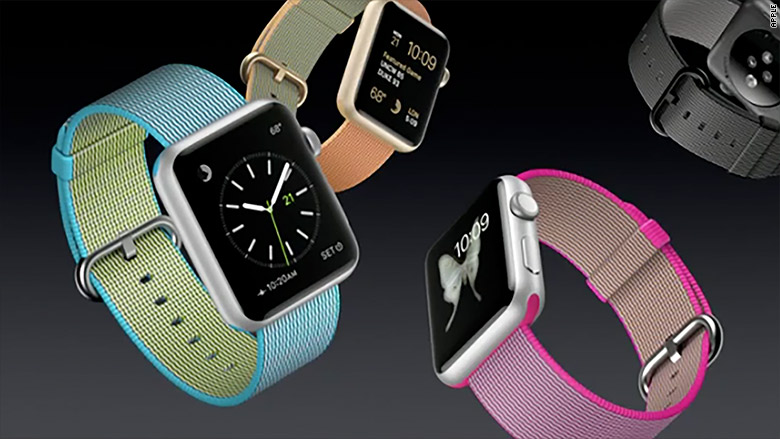 CEO Tim Cook introduced the new price and accessories during a special event in Cupertino on Monday.
For Apple Watch users, the device has become an "essential part of their daily lives," Cook said. People also love changing the bands, he added — about one-third of existing customers already do because it changes the "look."
The new bands are made from four layers of woven nylon and come in seven different colors — black, white, pink, red and gold, blue and gold, royal blue and "scuba blue." Each option costs $49.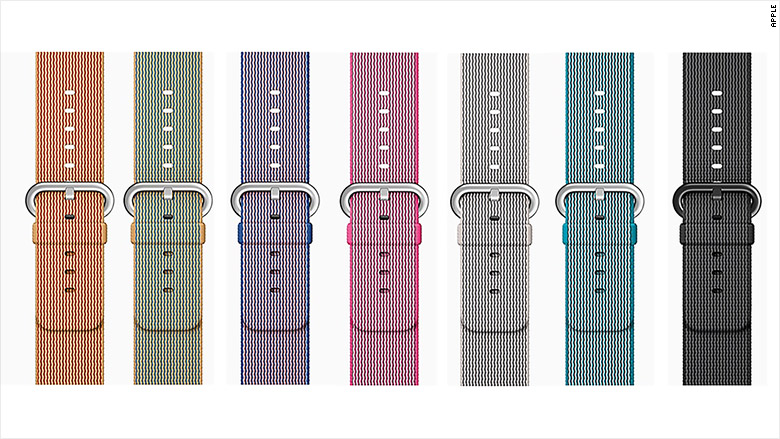 Apple also introduced new colors for its existing "Classic Buckle," "Modern Buckle," "Leather Loop," and "Milanese Loop" bands.
But will a lower price and new bands be enough to sustain buyer interest?
After all, there are so many more smartwatches for sale now than a year ago. Many cost less than the Apple Watches do, and offer features that the Apple Watches don't — like cellular connection.
Demand for the devices appeared lukewarm over the holidays, a period of time that usually brings in a lot of gadget sales. But Apple managed to become the top smartwatch maker in 2015, according to Canalys, Juniper Research and IDC. (Apple doesn't publicly disclose sales figures.)
That lead gives Apple some time to make its next Watch a reflection of customer feedback. Some expect the company to release a new model of the Watch in the fall.
In order to remain competitive, Apple (AAPL, Tech30) will have to continue adding more features and apps to its Watch so that it can work without an iPhone. (The original iPod became a blockbuster after Apple made it compatible with PCs.) Apple should also think about allowing more retailers to sell the devices and toying with its pricing model even more.
The Apple Watch is the company's first new device category since CEO Tim Cook took over.
Traditional watchmakers are likely following Monday's news closely. They're gathered at a luxury watch event Baselworld in Basel, Switzerland this week.
Since Apple launched its Apple Watch, the traditional watch industry has struggled with headwinds — losing significant sales and profits. In response, companies like Movado and Fossil have had to change their products and acquire startups to compete in a tech-first world.
[Source:- CNN money]