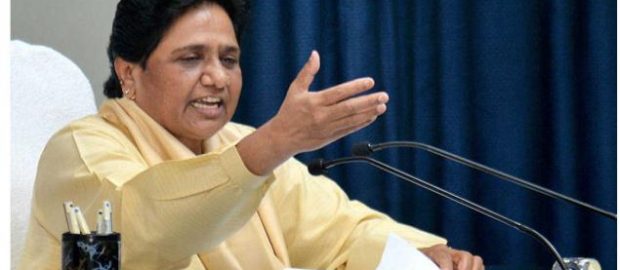 Bahujan Samaj Party chief Mayawati on Wednesday urged the Election Commission to declare the Uttar Pradesh Assembly elections early, by January-February next year.
Ms. Mayawati argued that the family feud within the ruling Samajwadi Party and the "jungle raj" in the State would lead to "chaos" in governance in the coming months and cause difficulty in holding "independent, impartial and peaceful" elections.
The former chief minister claimed that the BJP and the SP were both trying to delay the elections. She said early elections was the "only solution" to U.P.'s imminent chaos, while predicting that the people of country's most populous State would have to pay the price for the SP's infighting.
Cracks resurfacing
Ms. Mayawati's comments came in the wake of resurfacing of the cracks within the SP, this time involving senior members of the ruling Yadav clan. In his Independence Day address, SP chief Mulayam Singh caused a flutter when he said a few people were against his brother Shivpal Singh, saying as much that if the PWD Minister resigned, as he had suggested a day earlier, the SP would split into factions.
The SP supremo coming to the defence of his brother was interpreted as a warning to his son and Chief Minister Akhilesh Yadav, who has been on a collision course with his uncle for a while over various issues.
The latest manifestation was over Mukhtar Ansari-led Quami Ekta Dal's merger with the SP, which was orchestrated by Mr. Shivpal but only to be overruled by the CM.
Last weekend, while expressing concern over cases of land-grabbing by his party workers and musclemen within the SP, Mr. Shivpal said he would not allow common people to be harassed even if it required him to resign.
Adverse impact
The episode gave new fodder to the Opposition to target the SP, as Ms. Mayawati said that "infighting" within the "first family" in the party would have an adverse impact on governance. She said senior officials were the "first victims" of this internal wrangling and the impact was clear on the entire administrative machinery.
The BSP chief said "corrupt, anti-social and criminal elements" could take advantage of the situation and push the State towards "violence and destruction".
Ms. Mayawati also suggested that given the prevailing situation in U.P., the NDA government should have prepared for President's rule in the State but said the BJP could not muster the "courage" to do so as its situation in U.P. was delicate.
[Source: The Hindu]