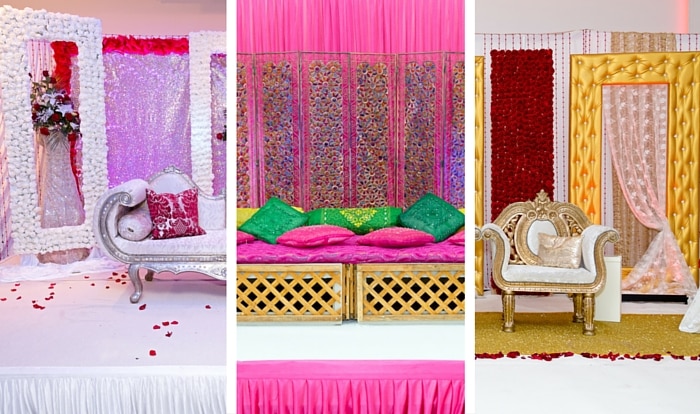 When I think of décor for sangeet events, I imagine lush, colorful flowers, vibrant tablescapes full of majestic trinkets, and whimsical displays of candle and lights with silky fabrics cascading. I imagine opulence and style, peacock feathers and marigolds abound, and a bunch of antique gold lanterns everywhere because, why not? Well, that vision was fine and dandy until it came to my own wedding and I heard how much money it would cost to decorate a small hall for my sangeet. I remember gawking at my decorator asking "you want us to pay how much for draping some saris on the wall and looking like a peacock projectile vomited on my dance floor?"
I did want to have a decorative desi sangeet but I didn't want to shell out the money to bring to life all those Pinterest boards I had been eyeing. All of a sudden, creativity took over—funny how it creeps in when money is of consequence. I realized I could commit to a few DIY projects to really bring the hall alive. I will be upfront with you, most of my suggestions rely on dollar store finds and a hell of a lot of patience, not to mention a steady hand at craftiness. Still other suggestions are not necessarily cheap, but they will certainly be cheaper than hiring a decorator! What you have to ask yourself is whether or not you have the time—something has to give. My internal debate was do I budget time or money?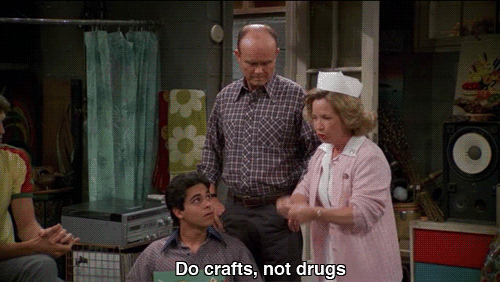 [Photo Source: Giphy]
I ended up saving money but gave a week's worth of time to make some decorations and put them up myself, which would have other otherwise cost anywhere between $1,500 to $2,000. No joke. Luckily I had my sister and friends assist so perhaps another important question to ask yourself is do you have friends who can help as you certainly do not want to be hanging your own decorations on your sangeetnight! Let's say you have concluded you have both time and friends – great! Time to rock your sangeet! Make a vision board of what you desire for overall aesthetic of your space to look like. Then, hop on to Pinterest and look up DIY sangeet decorations. This is a great start for getting into DIY mode! To get you inspired, I have shared what I did for my sangeet.
1. Christmas Decorations
I'm not kidding. Look, I'm not suggesting you put a Christmas tree smack-dab in the middle of your hall.Sangeet tree anyone? No. However, after Christmas until after the beginning of a new year, stores have mad sales on Christmas decorations. I have seen places like Hobby Lobby and Michael's sell decorations with an 80 percent discount post-Christmas! Christmas lights, particularly the fancy icicle string lights can be expensive in season, so bulk up on these. They will liven up your hall or home for sangeetcelebrations. Looking for more of a Bollywood kitsch vibe? Get a bunch of opaque multi-colored lights and drape them around your room or, if you have a staging area, string them as a backdrop for pops of color and light.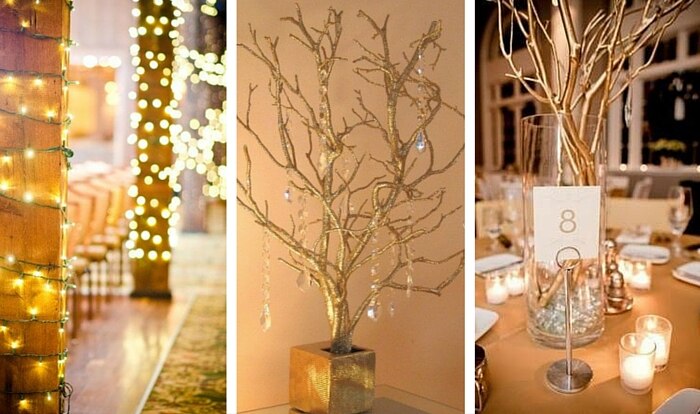 [Photo Source: Pinterest | 1, 2, 3]
Or what about those colored branches that are sold during Christmas? These make for colorful and dramatic decorative pieces! You could go for solid gold for a blinged out look. If you can't find the colors you're looking for you can always spray paint the trees to match your preference. Christmas time also brings big ornaments and all things gold and red—traditional Indian wedding colors—which can be displayed in big vases or bowls as decorative pieces. You don't have to go with traditional Indian wedding/Christmas colors. Nowadays, ornaments come in a plethora color schemes so be creative!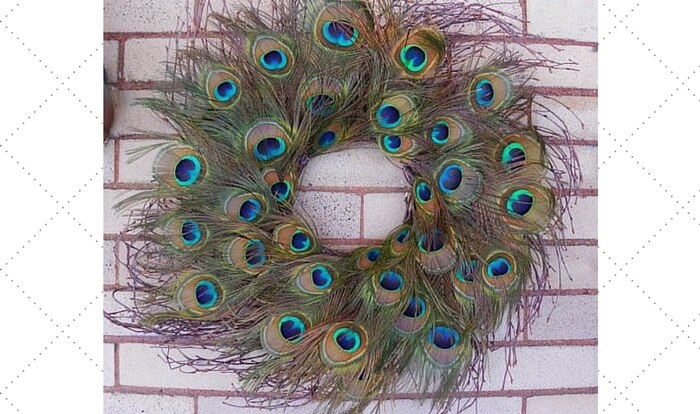 [Photo Source: Pinterest]
Although not a site for Indian weddings, we recommend a visit to the blog Dishfunctional Design to get more ideas on how to use ornaments for tablescapes and decorations.
2. Dollar/Discount Store
Dollar and discount stores can provide a treasure trove of items if you have the bandwidth and creativity to oomph up pieces. Items you can purchase in bulk and decorate yourself include hurricane vases, mason jars, large picture frames, lanterns, and even unique pieces that metallic gold spray paint and/or good quality puff paint can really glam up. You can easily find cheap, glass vases and trays to showcase the Christmas ornaments. Spray painting large cheap picture frames or getting a glue gun and gluing flowers onto them make for a fun décor scheme as well. You can hang these on the wall or even use them as DIY photo booth frames!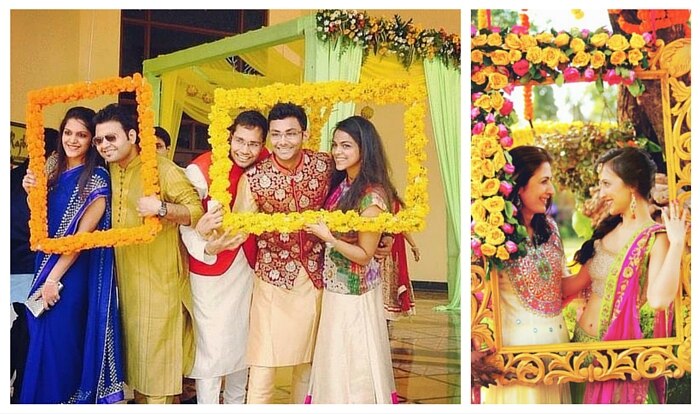 [Photo Source: Pinterest |1, 2]
You can also use smaller frames to decorate banquet tables or as centerpieces for guest tables. Hop online and find images for Mughal wedding art or similar themes; print out colored copies and stick it is a colored or sprayed frame. Scatter Indian bangles and electric tea light candles (which can also be bought in bulk at discount stores) around it and you just made yourself some classy and colorful decorations!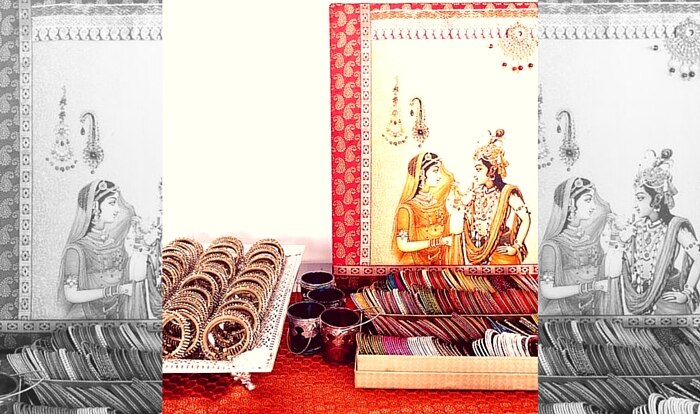 [Photo Source: Pinterest]
Another trend is taking plain candles and drawing mehndi designs on them which can make for adorable decorative pieces. You can even make these as gifts for your guests! Mehendi patterns can be put on glass jars as well for that desi touch. For more inspiration and how-to instructions, check this Pinterest board for DIY Mehendi Candles.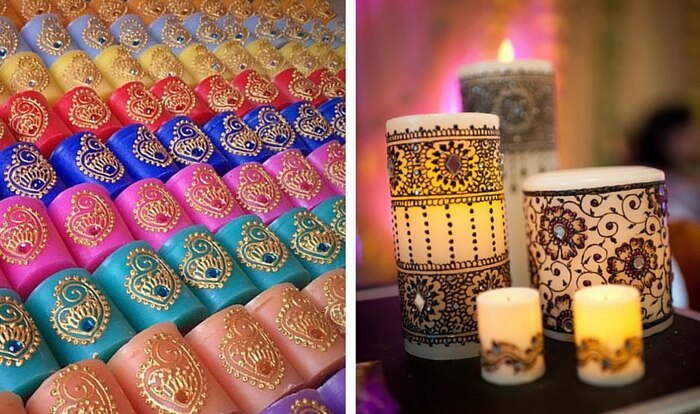 [Photo Source: Pinterest| 1, 2]
3. Things From Home
I did a lot of sangeet decoration "shopping" from home. Prior to my wedding, I would tease my mom that our house looking like a holding cell for Chandni Chowk, with all the tapestries, sari-print pillows, anddesi kitsch she displayed. Well, you better believe come wedding time I took all those Ganesh murtis, peacock statues, marble figurines and what not and made my own display in the sangeet hall. I remember the decorator quoting prices for setting up displays and I thought why would I pay you money to display what my mom already has at home and that I can get my cousin to display? (The power of putting family to work to save some money should be duly noted.)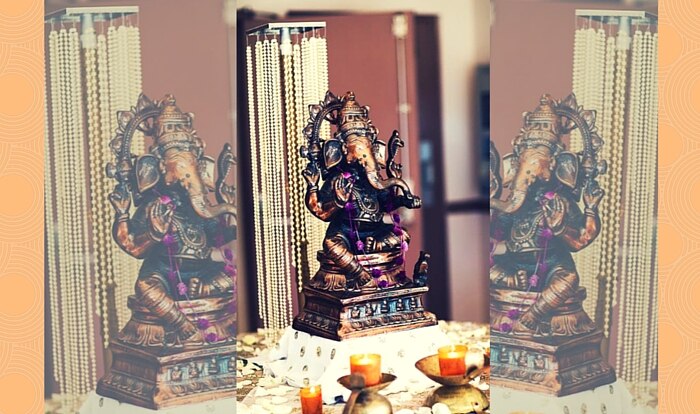 [Photo Source: Pinterest]
Decorative pillows do wonders in making a room look festive—rent these from Indian wedding planners, and it costs an arm and leg. Use what you have at home or buy Indian pillow covers and stuff it with cheap throw pillows from the discount store, and the area in which Mehendi will be done is suddenly elevated! For more pillow talk check out this style blog. Finally, do not underrate the value of your beautiful saris, dupattas, and bangles. They are a goldmine for DIY decorations! With saris hung on the wall as the backdrop for a stage, dupattas draped around a room or bangles innovatively used, your hall will have a modern and stylish touch. Do not be afraid to pin up yards and yards of cloth for an instant room makeover. Put those Aunties to use and get to decorating!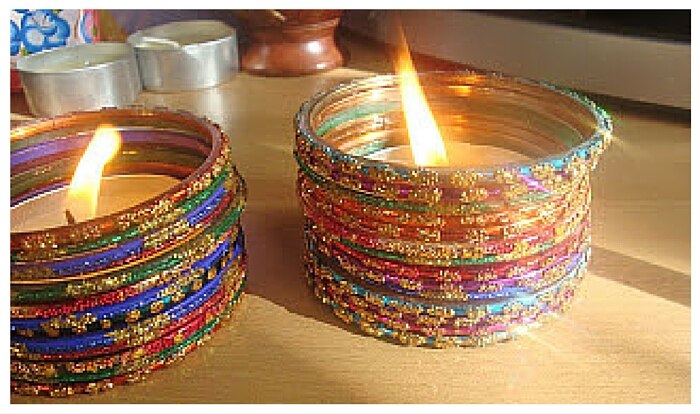 [Photo Source: Pinterest]
If you are like me and come from a family of women, bangles are, and I reckon always will be in an abundance in our house. They sure came in handy when I needed creative ways to use what I already have for my sangeet decorations!
[Source:- India]