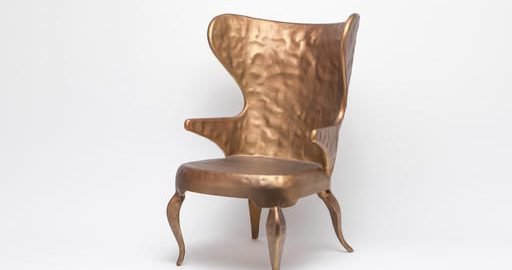 In decor, "traditional" tends to conjure up images of matched furniture sets, prim patterns and buttoned-up formality.
But there's been a revamp, and what's now being called "new traditional" is a fresher, freer look that honors the classics. The style blends traditional architectural and decorative elements with contemporary ones for unexpected, sometimes edgy results.
"It's all about balance," said New York interior designer Alexa Hampton.
She said the trend started in Europe, where older residences "are often filled with ornate architecture: herringbone floors, intricate plaster work, French doors. With heavy decoration, these architectural bones can seem fussy." That led to an "undecorated" movement — white walls, furniture with sharp angles, minimalism.
"I think this foil of old and new is essential to good design," she said. "The conversation between modern and classic creates a tension, and when done right, it's very powerful."
Moldings, shelving and good hardware can give a space a traditional or contemporary "frame" to which contrasting elements can be added.
"If my architecture's very traditional," said Hampton, "I might do an unexpected wall treatment like high-gloss lacquer."
Likewise with furniture and accessories, "It's nice to combine a more curved traditional piece with a sexy and sleek cocktail table."
The European Fine Art Fair, the art and antiquities version of Fashion Week, was held in New York in October, and Hampton saw pieces she said could be incorporated into a contemporary space. A bold, Grecian, gold-and-black amphora, for instance, caught her eye; although it's an ornate piece, it could play up the drama in a small space, particularly atop a modern table.
San Francisco interior stylist Jessica Sutton suggests using a neutral color palette and incorporating a mix of rustic, contemporary, even industrial pieces to bring the New Traditional look home.
"Keep the style fresh by incorporating classic patterns like florals in modern ways — an abstract rug, or an upholstered pillow," she said.
Retailers are featuring the look this season.
French designer Bina Baitel has used the classic moldings of Paris' Haussmann architecture as inspiration for cabinet doors, but tilted the motifs to create the visually striking Astragale armoire and console.
Bernhardt's Salon collection includes a traditional etagere given an alabaster finish, and a curvy nightstand clad in silver leaf. The Haven collection pares down traditional English classics like wingchairs and dining tables to their essential forms.
British designer Andrew Martin has a collection of wingback chairs upholstered in combinations of leather and ticking, or leather with a pieced metal frame. A lounge chair pairs a distressed leather seat with a kilim-clad frame. Mixing materials brings the traditional chair shapes fashion-forward.
Audrey Sterk, a designer on Nantucket Island, Massachusetts, presents a fresh take on early American quilt florals and 19th century silk-screen patterns in her wallpaper and fabrics, editing the motifs to their essential elements and using a contemporary color palette.
At Candelabra, the classic silhouette of a Louis XVI chair is cast in silver- or gold-toned stainless steel and given elongated legs, creating a sleek barstool. Curvy, polished silver legs and an especially long — 72-inch — sliver of marble make for a showstopper of a console.
And finally, at Made Goods, there's a Beaux Arts mirror with its exaggerated furbelows rendered in dramatic black tin, and a wing chair cast in hammered black or gold iron with upholstered seat. They're heavy metal remixes of classical favorites.
[Source:-Herald]